Damarea Crockett puts speed and power on display
Following a breakout freshman season, the second-year back looks to avoid the 'slump.'
Running back Damarea Crockett has never had much use for labels. At least not the ones other people attempt to put on him.
Some might look at his 5-foot, 11-inch, 225-pound frame and see a lumbering power back. But he counters with a top speed of 21.6 mph — he clocked that this off-season, putting him in the class of elite NFL-level speed. In Arkansas, some watched him play prep ball at Little Rock Christian High School and thought he could never be an SEC back. Well, we all know how that turned out. "I kind of just laugh at it now," Crockett says, with a smile. "It's just crazy how people will tell you what you can't do."
Crockett was a revelation during his true freshman season at Mizzou in 2016, rushing for 1,062 yards and 10 touchdowns in only 11 games. His 96.6 rush yards per game ranked first in the nation among freshman backs, and his 6.94 yards per carry ranked sixth in the nation out of all players with at least 150 carries.
He only got stronger as the season wore on. Crockett averaged 49 yards per game and 6.13 yards per carry during his first five games. He increased that to an average of 136.2 yards per game and 7.23 yards per carry during his final six games.
Now he's one of the focal points of a Mizzou offense that returned 10 starters from a group that set a program record in yards per game last year. But against Purdue, it was the run game that was never established with just 66 yards on 23 carries for the three backs. So it will fall on Crockett to avoid another common label, one about which running back coach Cornell Ford has been reminding him regularly during preseason camp.
The sophomore slump.
"He'll talk about it like, 'As far as your work ethic, just don't feel like you know everything, don't feel like you've got it all. Just keep growing, keep learning, keep moving forward', " Crockett says. He spent the off-season striving to keep up the standard he set during his blockbuster freshman year. He is more cognizant of his dietary needs, and more aware of the steps he needs to take to recover after a practice session or a workout in order to keep performing at a high level.
He doesn't have much free time. When he does, he spends a fair portion of it stretching, working out his hamstrings or rejuvenating in an ice tub. "It's just the little things, like when you get nicked up, fixing it real fast," Crockett says. "Just to have your body right for the long haul and keep yourself going."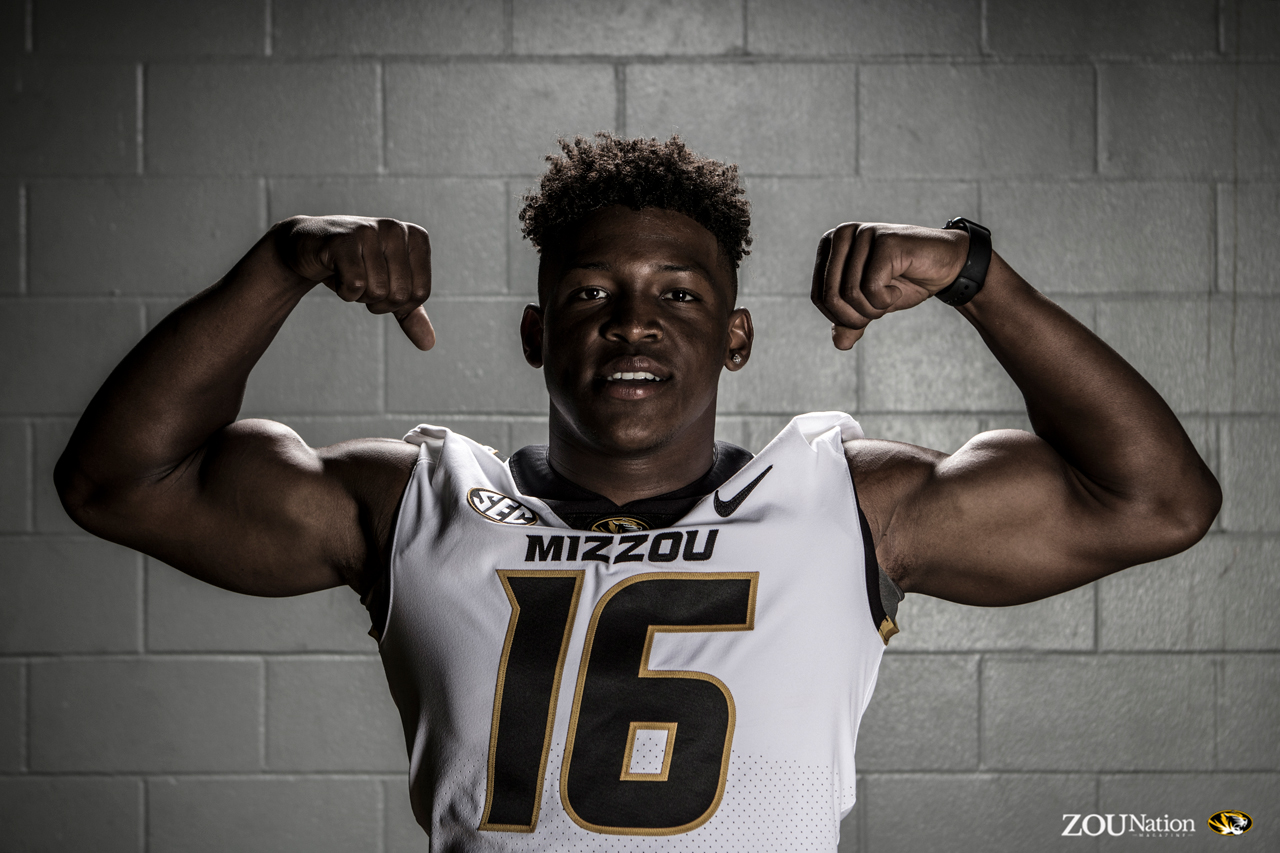 On the field, Crockett is working to become a more effective downfield runner, someone who can optimize his potent power-speed combination by getting tough yards between the tackles and finishing off runs rather than ducking out of bounds. He also is drawing from the example of senior back Ish Witter to shore up the deficiencies in his pass-blocking game that cropped up during his first collegiate season. The 195-pound Witter blocks like a 230-pound back. Crockett would like to as well.
"Really having Drew [Lock] and the rest of the quarterbacks comfortable in the pocket when we're in there, [no matter which] running back is in the game," Crockett says is important.
Tackle Paul Adams and the rest of the Missouri offensive line have set a lofty goal for Crockett this season: 2,000 rushing
yards. That's one goal Crockett doesn't mind. Nor would he mind the Heisman Trophy talk that would inevitably accompany such a feat.
In fact, he welcomes it — as the picture of the Heisman and the word written out in his locker attest. "If I'm going to play football, I don't play just to be another player," Crockett says. "I'm playing to be the best."
Photos by Travis Smith