J'Den Cox Ends Missouri Career with Three NCAA Titles
The Olympic athlete completed only the second undefeated season for Missouri Wrestling. What's next for a program that continues to make history?
J'Den Cox stepped off the mat at the 2017 NCAA Wrestling Championships this past weekend as the winningest athlete in University of Missouri athletic history. The 2016 Olympic bronze medalist defeated Minnesota's Brett Pfarr 8-2 to claim the 197-pound title in front of a nearly 20,000-person crowd, many of whom were Tiger fans in St. Louis' Scottrade Center.
His match with a familiar foe excelled more or less as expected, with Cox dominating the majority of it — as with typical J'Den Cox-featured tournaments, he was expected to be the centerpiece. But this year, he was the centerpiece of a Mizzou team that has become a perennial powerhouse since Cox arrived as a freshman four years ago. This season marked the first time ever that Cox was joined in the finals by not one, but two of his teammates: senior Lavion Mayes (149 pounds) and redshirt junior Joey Lavallee (157 pounds).
"We've never had two in one year, and to get three at home here in Missouri, that's fun," head coach Brian Smith says.
While the pair lost to their respective Penn State rivals, both ranked number one at their weights and will forever be inscribed in Missouri history as leaders of one of the greatest 'Tiger Style' teams to date. Mayes capped his college career becoming one of five Mizzou wrestlers with three All-American honors, while Lavallee earned his first All-American award and will return for his senior season in 2017-2018. Cox became the second Tiger in history to earn four All-American honors (Olympian Ben Askren did it during his 2004-2007 career).
Mizzou nabbed two additional All-American awards, both of which were awarded to underclassmen. Redshirt freshman and Columbia, Missouri-native Jaydin Eierman placed fifth in the 141-pound weight class, becoming the fourth consecutive freshman to accomplish the feat. He was joined by fellow Missourian and redshirt sophomore Daniel Lewis, who placed sixth in the 165-pound weight class for his second All-American distinction.
The team placed fifth overall with 82.5 points, and the weekend marked yet another incredibly successful season under Smith's coaching. "This is a very, very talented team, maybe the most talented team I've ever had," Smith says. "If you believe in the process, good things are going to happen, and it showed tonight."
After Cox claimed the crown, he dropped down to the mat and put his hands to his face in an emotional moment for the senior. (As a Tiger, he's lost only one NCAA title: his sophomore year when he placed fifth.) He ran to his coaches, hugged them and finished his storied career with a 136-5 record, 28-0 record on the season. His undefeated 2017 campaign is only the second undefeated season in program history.
For Cox, though, the biggest thrill was accomplishing these feats with his teammates at his side. "It just made it so much easier within myself, no nerves or nothing, just go out there do your thing and wrestle, and you'll join your brothers and get three to the finals," Cox says. "And now we're making history at Mizzou."
When asked how significant it was to him to have become the first Tiger in Mizzou Athletics history with three titles, Cox remained modest, as one would believe. "I have a lot of respect for the history of the school, respect [for] the people that came before me and that paved the way for me to be able to do what I do day in, day out."
Going forward, Cox will take it day by day. After the match, he addressed rumors that he may be joining the Missouri football team as a linebacker next season. The decision will be made in the following weeks, he says, and if he doesn't take the offer from head coach Barry Odom, he will likely enter the professional circuit and begin training for the 2020 Olympic team, where he hopes to earn gold. First, however, he stressed the importance of heading back to Columbia and completing his psychology degree.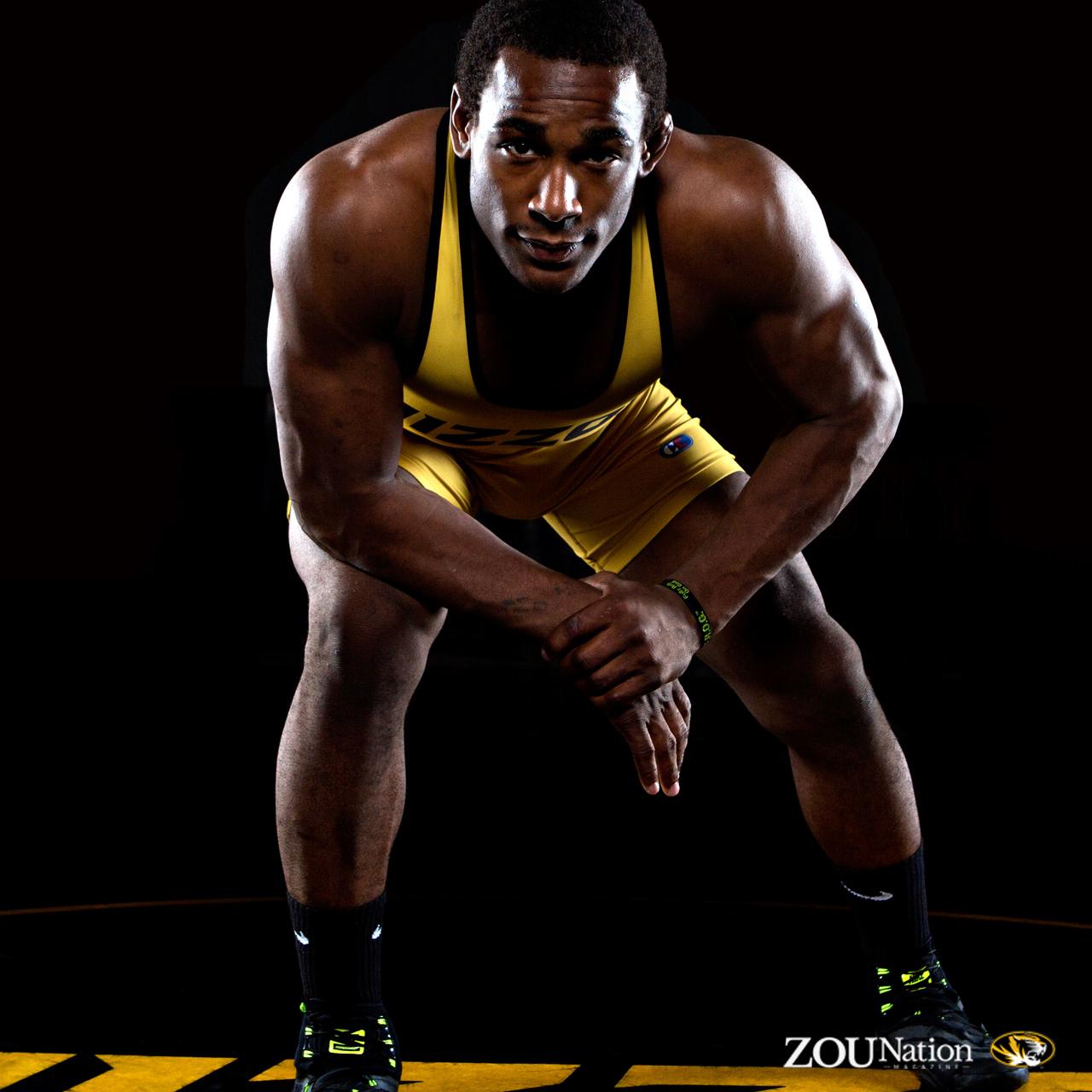 Lavallee, Eierman and Lewis, along with redshirt junior Barlow McGhee and redshirt sophomore John Erneste will now be faced with the task of continuing the success that has become an expectation under Brian Smith's coaching and Cox and Maye's leadership. Lavallee returns as the only wrestler with finals experience, and his story alone is remarkable enough to inspire greater accomplishments. Asked to leave the team by Smith just one year ago, Lavallee has undergone an incredible transformation.
"I said, if you want to stay, you've got to come and give me 10 things that you're going to change. He showed up with a haircut the next day. He showed up and just changed," Smith says. "It's been every day in practice, smiling, working hard since that day last year, and to see him make the national finals, you've got to love it."
Prior to this season, Lavallee says that his attitude in the wrestling room was wrong. "I felt like I had everything and I knew everything. Now when I come into the room, I'm like, 'okay, what do I need to learn today, what do I need to do better'?" His transformation has been just another inspiring storyline from Smith's team. Heading into next season, he hopes to become the fifth NCAA Champion in program history. As the Tigers have already shown, nothing seems to be out of reach.
As Cox hugged his coaches, he thanked them for being by his side, through every moment of his historic collegiate career.
"We knew what we wanted to be, and what we were going to try to accomplish, it was just a moment of happiness and just joy and fulfillment," Cox says. In his final moments as a Tiger, Cox represented his school, state and hometown and wore his heart on his sleeve. Going forward, he says he hopes that his example will inspire someone to come in and win four NCAA titles for Missouri. It won't be easy, but the Tigers seem to have a knack for breaking barriers. Somehow, it doesn't seem too big of a stretch.
Photos: Travis Smith