March Madness comes early for Mizzou against longtime rival
The calendar said October, but the atmosphere in the afternoon glow of the Sprint Center shouted a matchup deep into March. For at least one exciting day, what once was the oldest rivalry west of the Mississippi roared back to life during Showdown for Relief, a charity exhibition basketball game between Mizzou and Kansas. The capacity crowd brought The Border War back to life, with more than 18,000 seated in Kansas City's Sprint Center and another 16,000 streaming online. Together, the fan bases and programs of a rivalry that hadn't played since 2012 raised more than $1.7 million for hurricane relief efforts.
"The atmosphere here was crazy. It seemed like an NCAA tournament game," senior forward Jordan Barnett says. "It was amazing to hear the energized fans. They just made it that much more fun to play."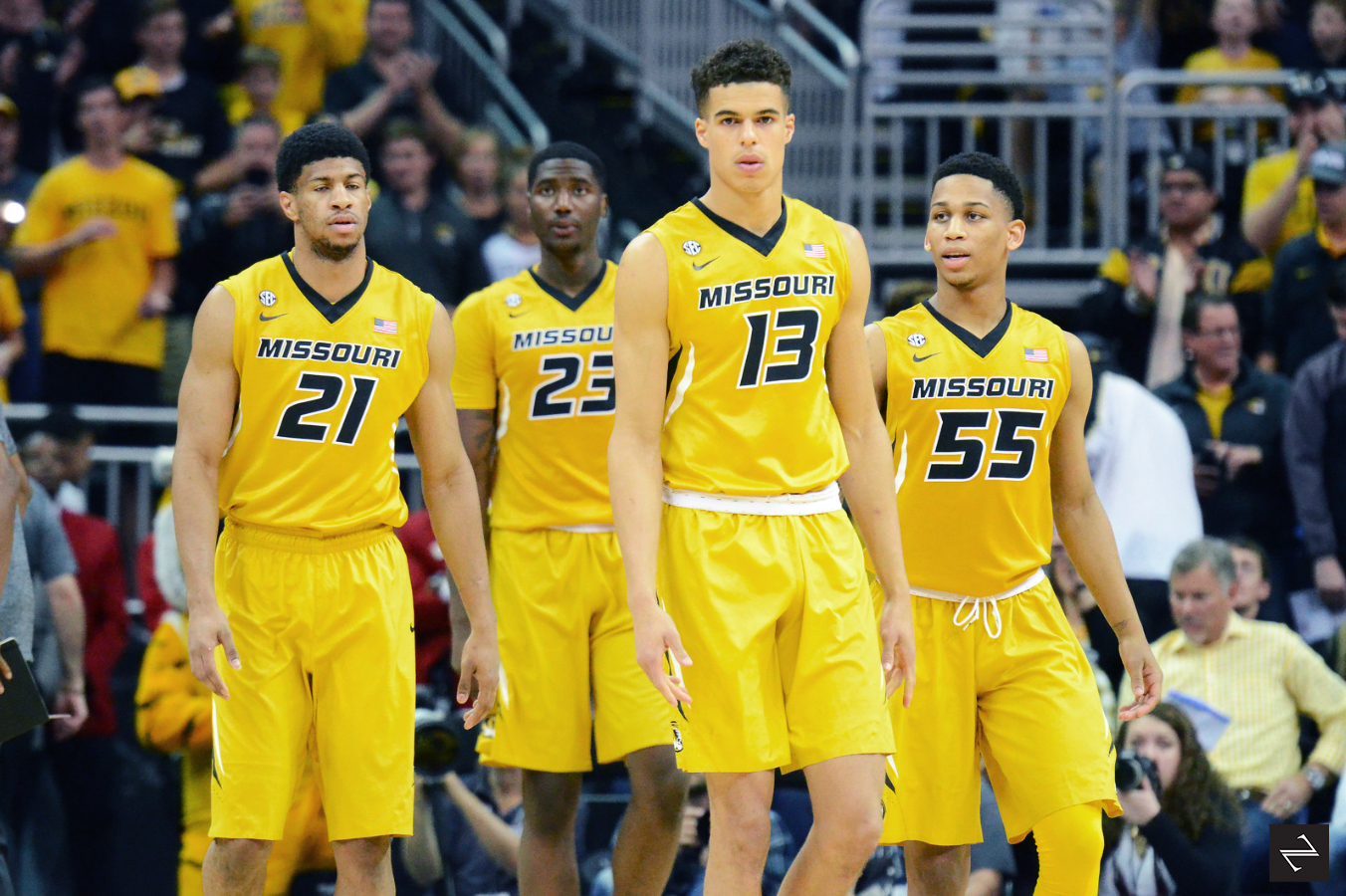 The box score read a six-point defeat in an exhibition game (93-87), but what seemed more important was a Missouri program competitive on its biggest stage since moving to the SEC — and its fans reenergized, there for it all.
"I think it's great for both teams," coach Cuonzo Martin said after his Missouri debut. "To be able to play a team of that caliber on this stage was great, and with the atmosphere and the energy behind it. Michael Porter Jr. is a talented guy, but he has never been on a stage like this. Now as you move forward, you know what it looks like, and you're not so consumed by the atmosphere as opposed to what's going on on the floor.
"I think it will really help us as a team. It's a win-win. Unfortunately, we didn't win the game, but I think we can only get better from it."
Mizzou fans were eager to see their most highly touted recruit since Steve Stipanovich — or perhaps ever — and they didn't have to wait long. Porter scored on a dunk just two minutes into the game — And One. He was fouled and sank the free throw. A minute later, he drained a three-pointer from the right corner. Despite a team-high 21 points, however, Porter looked entirely distraught, disappointed with his 6-for-20 field goal shooting.
"First of all, it was great to get out there and play," Porter says. "I was pretty disappointed with my personal performance. I felt there were a lot more things I could have done for the team. I put it on myself. Although there was stuff the whole team could have done better, there was a lot more I should have done for my team."
Was the freshman forward too hard on himself? Possibly. But when you're Michael Porter Jr., you'll have to dig deep in a rolodex of memories to come up with losses. And few of this caliber.
"I don't think he takes it any harder than his teammates," Martin says. "They want to win the game. When you're a competitor, there's no such thing as an exhibition game. They're all real games. I think he took it personally from the standpoint that he didn't feel he played as well as he could have with his field goal percentage. But for me, that's not the real gauge: It's whether you rebound, play hard and put pressure on the basketball. Those are the things we can control every night."
The showdown game provided a rare opportunity to match up against a powerhouse team — one of those blue bloods, who under Bill Self, has typically found a spot deep into March Madness — before the results would even count in the standings. "Kansas is an established program and a great team," Porter says. "One thing I take away from the game is how much better we can get. We are a very talented team, and we had spots in the game where we showed that, but if we keep working hard every day in practice, we will be there at the end.
"It's a huge rivalry, and we knew that coming into the game. We knew it meant a lot to a lot of people. But we came up short. It's time to go back to practice and work hard to get ready for our first real game of the season."
Barnett agrees. "We expected it to be a really good game," he says. "We knew it would be a challenge. We came up short, but we played with them for a large part of the game. I learned that we can compete with the best. We had some defensive issues, and once we shore those up, we will be one of the top teams. Being part of a game like that helps us get ready to play in an atmosphere that is neutral and electric on both sides."
The game provides a barometer for the coaching staff as they prepare for the season opener against Iowa State on Nov. 10. They'll hold two closed scrimmages before then.
"I thought the effort was there, but I thought we had a lot of breakdowns defensively," Martin says. "I thought we didn't do a very good job until the last five or six minutes of the game. That's fine, because in a game like this, there is a lot of film to look at, a lot of things to learn and also things that we as a staff need to spend more time on."
Of course, the inevitable question is whether the Tigers and Jayhawks will square up on a regular basis. "I thought you were going to let me out of here without asking that," Martin joked at his post-game press conference. "Of course, we would love to play the game. It's a great program, and Bill has done a tremendous job. But both sides have to agree upon something like that. We saw the energy behind it. We'll see. I think we did enough on both sides that it possibly could happen."
Stay tuned.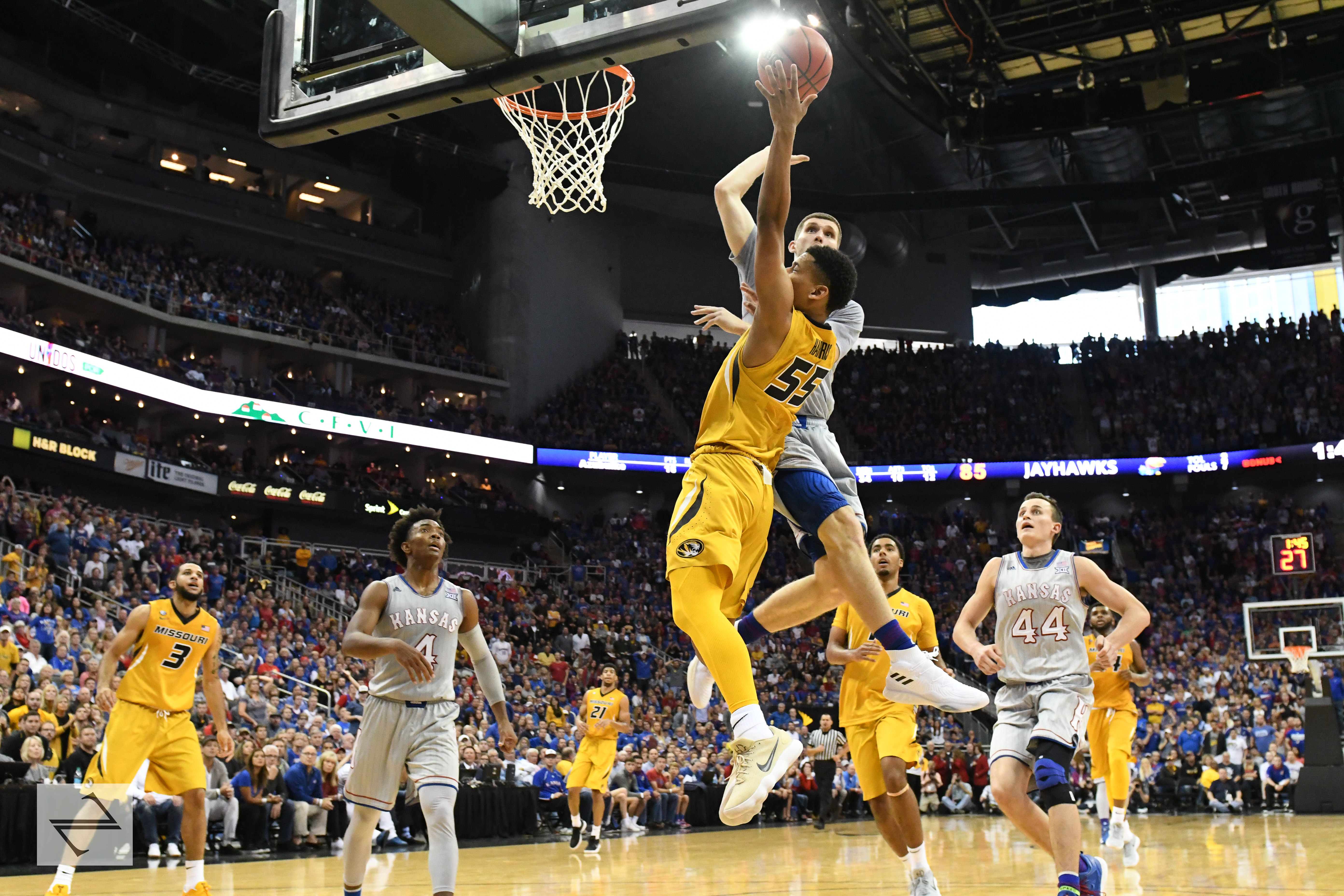 Photos by Nick Mebruer