Major League Decision
Is Tanner Houck the next Max Scherzer?
Tanner Houck peered from behind the steel bars of his catcher's mask and held out a mitt twice the size of his hand. The 2-year-old stood in the front yard of their Collinsville, Illinois home.
He was ready.
His mother, Jennifer, would toss her son a tennis ball,and Houck still remembers how, even then, the feeling of the ball in his mitt gave him a sense of peace, that everything was where it was supposed to be. The moment would pass, and he'd throw the ball back, hold out his mitt and adjust the mask. Ready, once again.
As he grew older, Houck's coaches taught the budding pitcher how to visualize success. When he closed his eyes, he would picture the ball landing perfectly in the corner of the strike zone. He would see himself standing on the mound at Busch Stadium — home to his beloved St. Louis Cardinals — winding up and throwing strikes as fans erupted into cheers.
"There's no one moment in my head that sticks out as the time I knew I wanted to play baseball as my career," Houck says. Watching Major League baseball religiously, he found role models in the Cardinals' Adam Wainwright, the Dodgers' Clayton Kershaw, Chris Sale, now of the Red Sox, and the hometown man, Max Scherzer. "I looked up to all of those guys and thought, 'I can't wait to play in the Major Leagues one day like them.' "
That opportunity came for Houck in 2014, when he was just 17 years old. A standout pitcher in high school, Houck was drafted by the Toronto Blue Jays in the 12th round of the MLB Draft. At the time, his scouting report said, "Some scouts look at his frame and high-effort delivery and see Max Scherzer."
Little did they know how fitting that comparison would become.
****
Scherzer, also known as a two-time Cy Young award-winning pitcher, grew up in Chesterfield, Missouri, about 40 miles from Collinsville. Like Houck, he seemed born to play baseball. At just two years old, he'd pull out his ball and bat and ask his dad to pitch to him.
"I always believed playing in the major leagues was a possibility," Scherzer says. "But I also knew I needed a backup plan."
That backup plan came in a few forms. Scherzer was a stellar student, and a standout on the football, baseball and basketball rosters at Parkway Central High. But it was his baseball skills that captured the most attention. In 2003, when he was 18, Scherzer was drafted by the St. Louis Cardinals in the 43rd round of the MLB Draft.
Playing for the same team that once rostered Stan Musial, Bob Gibson and Ozzie Smith was a dream. But Scherzer decided to sign with a different Missouri team — the Tigers.
"I come from a family that puts a high value on education, and I knew life in the minor leagues was rough," he says. "So I really had no hesitations about going to Mizzou. Even though St. Louis was the hometown team, there was very little the Cardinals could do to get in the way of me getting an education."
Scherzer comes from a long line of Tigers as well. His parents graduated in the mid-70s, and many aunts and uncles attended the university. The 6-foot, 3-inch pitcher, recognized for his fastball as well as his different colored eyes — one brown and one blue — decided to major in finance as he had always been good with numbers.
"I thought I was one injury away from never stepping on the field again. So I made sure I did all the homework and got good grades while I was there," Scherzer says. "The odds said that I was gonna have to use my degree."
Only pitching 20 innings with a 5.45 ERA, Scherzer had a lot of time to focus on his studies his freshman year. He looks back on that season as one of the hardest of his life. How could he pitch in the Majors if he couldn't even pitch at the college level? Scherzer knew that if he were to ever step on a Major League mound, something had to change.
****
Houck didn't come from a long line of Tigers. But his history with Mizzou was ripe. He began attending the program's baseball camps when he was in 7th grade, and fell in love with it.
"It just hit me when I got there," he says. "I thought, 'Dang, this place is awesome!' "
It's a feeling he never forgot. During his junior year of high school, he was debating between pitching at Mizzou, Missouri State or Mississippi. Then, he had a dream.
"I was pitching in the College World Series, and the only thing I remember is seeing that I was wearing a jersey with black and gold on it," he said. "I knew it was a sign."
Houck committed to Mizzou in December of his junior year. But the following year, he was a 12th-round pick by the Toronto Blue Jays, No. 354 overall. Houck had a decision to make, so he turned to the one person who taught him almost everything he knows about baseball today — his mom. He says she's even more "baseball crazy" than he.
Jennifer was the one who introduced him to the sport. He knew he wanted to be a pitcher by the time he was five, and Houck says his mom signed him up for private lessons so he could improve. When he was old enough, he made a select baseball team called the Troy Thunder, and the pair bonded during what Houck remembers as car rides that lasted anywhere from two to 10 hours while traveling to his games. He and his mom, he says, are now the "closest human beings ever."
That's why he trusted Jennifer when making what was then the toughest decision of his career. As a learning behavior specialist, Jennifer had always stressed the importance of education to her son. But when it came time for him to determine whether to sign with the Blue Jays or the Tigers, Jennifer left the decision up to Houck.
"She said 'it's your life, and your choice,' " Houck says. "If I wanted to go and play, she was going to support it."
Three days after the draft, as he was still deciding, Houck got a tattoo on the left side of his wrist that said, "RD12/PK354/BLUEJAYS'14." He wanted to forever remind himself that, in 2014, there were 353 people who were better than him. He ultimately decided he had more growing up to do, both mentally and physically, before he could play in the pros. Like Scherzer, he was ready to play at Mizzou and do what he could to work his way up that list.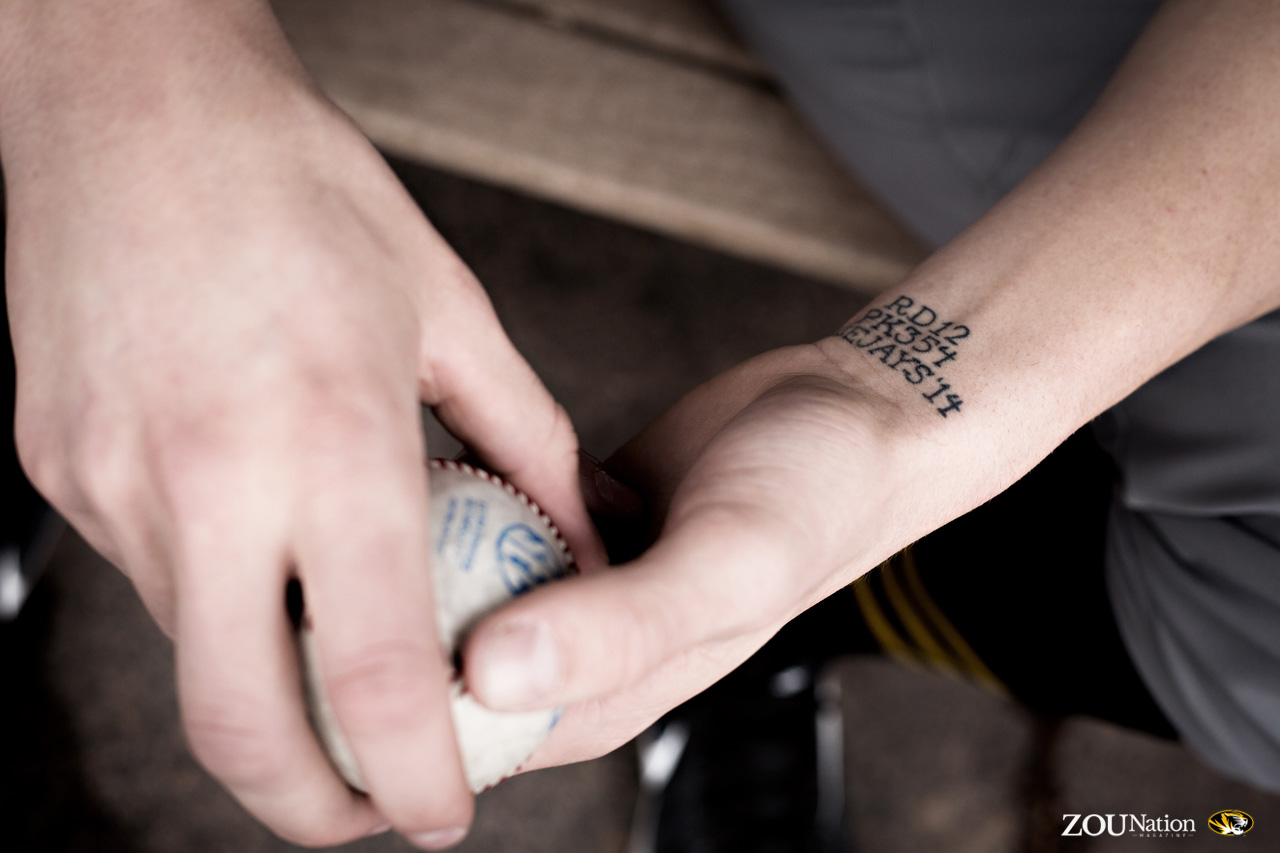 ****
During his freshman year at Mizzou, Scherzer could throw at 90 miles per hour, and the aftereffects of reaching the speed seemed to tornado through his body. His leg would whip around, and his hat would occasionally fly off, as if Scherzer were swept up in the very force he created.
His coaches, especially Tony Vitello, now a former Mizzou pitching coach, helped him perfect his delivery. Scherzer developed a mantra, repeating "chin over toe," to help himself stay balanced. He also started working on maintaining physical control. Scherzer says the team "beefed up" — not like football players — but in a way that allowed them to become stronger and more aggressive on the field. Slowly, Scherzer became less swept up in the speed tornado of his pitch. That sense of control allowed him to work his way into the rotation. Things began to click.
It was April 1, 2005, at Taylor Stadium, the first start Scherzer, a sophomore, had made in the Big 12. That game against Texas Tech is now the game, he feels, when he cemented himself as a top-tier pitcher. The Tigers won 25-0, and Scherzer pitched a combined no-hitter with teammate Michael Cole. It was the first no-hitter at Missouri since 1981.
"I was thinking about what Coach Vitello told me," Scherzer says. "It's just having the right mindset and aggressiveness of attacking hitters."
The lessons he learned from Vitello became part of Scherzer's DNA as a pitcher. That season, he led the Tigers to an NCAA Regional, was the Big 12 Pitcher of the Year and was also an All American. The following season, he led the Tigers to their first-ever NCAA Super Regional.
One year later, Scherzer gave Mizzou another first. The Arizona Diamondbacks chose him as the 11th-overall pick of the 2006 MLB draft, making him Mizzou's highest-ever selection at the time. The rest, some might say is history — except Scherzer keeps rewriting it.
He was named Arizona's Rookie of the Year in 2008, and later moved to Detroit when he was traded to the Tigers. There, he pitched Game 4 of the 2012 World Series against the Giants, and even though the Tigers lost, Scherzer came back the following year with a momentous season that included becoming the first pitcher to start a campaign 12-0 for the Tigers. He was also the majors' only 20-game winner that year, with a league-leading 2.90 ERA and 240 strikeouts. It was no surprise, then, when he earned the 2013 American League Cy Young award.
But Scherzer has only grown since. In 2015, he had not one no-hitter, but two. The first came in June, against the Pirates, when he missed a perfect game by hitting a batter in the ninth inning. In October, he threw a total of 17 strikeouts against the Mets for his second no-hitter, becoming only the fifth player in Major League history to throw two no-hitters in one season.
This season, Scherzer went 20-7 with a 2.96 ERA (141 ERA+) in 2281/3 innings. He led the league in wins and innings, as well as all of baseball in strikeouts with 284. He won the Cy Young award once again, this time with a landslide vote, and he is only
the sixth player in history to win the award in both leagues.
"I appreciate it even more this time around because I understand the history, and the accomplishment and season that it takes to win that award," he says. "I pinch myself and think, 'How is this happening?'"
When he looks back, he says it was his training as a Tiger that prepared him for these record-breaking seasons.
"At Mizzou, I learned how to handle adversity and how to handle failure, as well as the mindset it takes to achieve success," he says. "I learned confidence is a choice, and that's certainly something I've carried with me."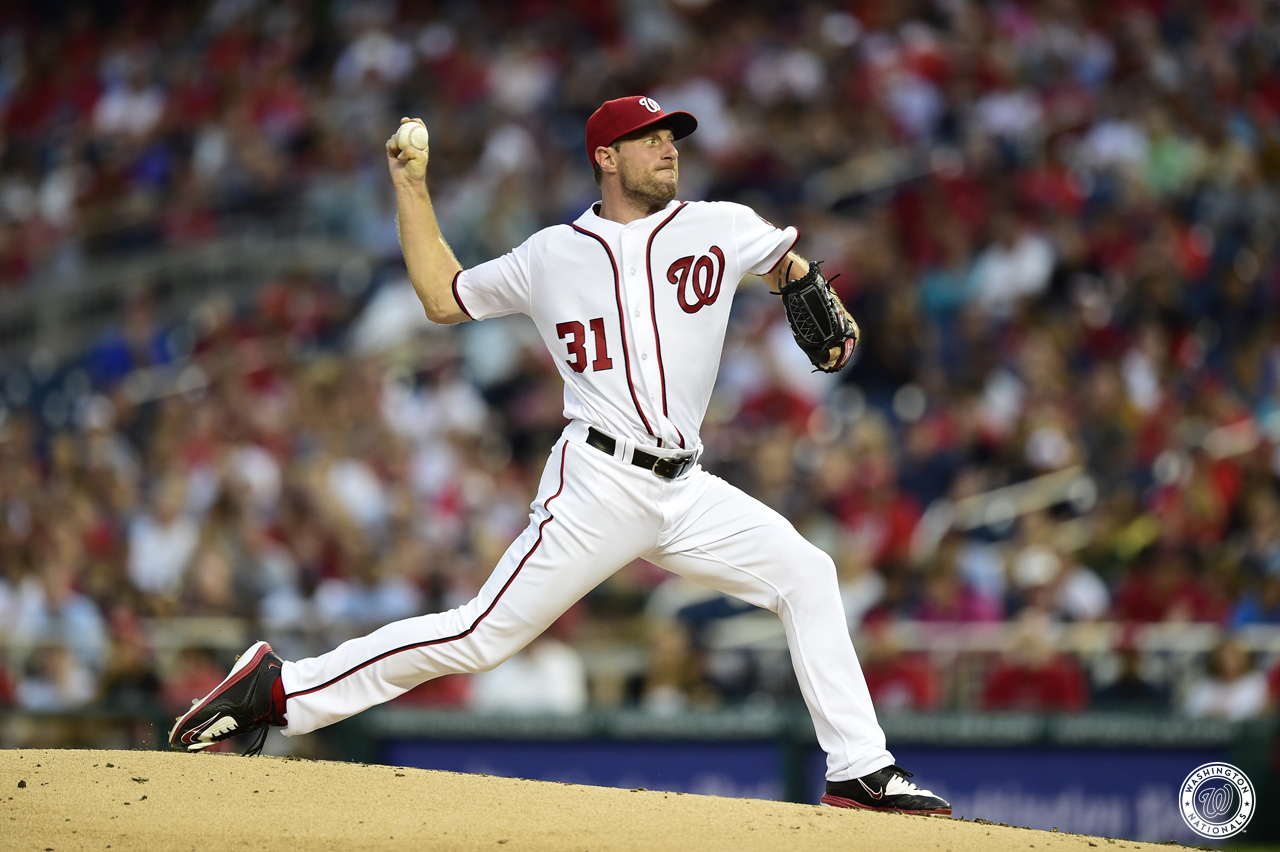 ****
Every time Houck looks at his wrist, he is reminded that in 2014, 353 people were "better" than him. Much has changed in three years. Houck has gone from a tall, gangly teenager to a strong star pitcher who did something Scherzer didn't — crack the starting rotation his freshman year.
That year stands out to him for many reasons, and includes the most memorable game of his Mizzou career thus far, when the Tigers played Florida. He woke up at 1 a.m. and ran to the toilet, and then spent the next few hours hugging it, sick with the flu. The onset migraine topped it off as he lost fluid.
"I called my trainer and said, 'I think I'm dying.' She was like, 'Get to the field. I'll be there in an hour.' "
He hopped on his trusty moped around 7 a.m., rode over and met his trainer, who gave him flu medicine. He also drank Coke — not water — the entire game to make it through. And in that game, against a Top 6 team, he allowed only four hits in eight innings to help the Tigers win 10-1.
Besides the occasional Coke, his other secret to success is a little greasier. Houck once ate an entire Little Caesars sausage pizza before a game, then pitched well, so he's repeated the tradition before every game since.
It seems to have worked. In his sophomore season, Houck started 15 games and compiled a 2.99 ERA in 105.1 innings. He was named SEC Pitcher of the Week twice, and, just before the season began, was part of a combined no-hitter against Cuba, tossing four perfect innings as part of Team USA. This year, he moved into fourth place in Mizzou history in career strikeouts at 292. That mark ranks second among three-year players and trails former first-round pick Kyle Gibson. Throughout the year,  Houck has been consistently named a first-round overall prospect for the 2017 MLB draft. But, every time he looks at his wrist, he questions whether it's true.
"Honestly, I don't believe a lot of that stuff," he said. "I just gotta go out there and play the game I fell in love with at age two. I see it as a great opportunity, and it's a great feeling to be recognized, but ultimately I want to do what's best for the team to help us succeed."
And this time, no matter what comes next, Houck knows one thing for sure: he'll be ready.
Photos: Travis Smith; Washington Nationals