Mizzou Football Preview
Every game, every player matchup to know during the 2017 season.
Year One wasn't good enough. Everybody knows it. "I did probably a little too much last year, or tried to," says head coach Barry Odom. "For a number of reasons, we didn't play very well early in the season. At the end of the day, I didn't do a good enough job of getting those guys ready to go play their best."
Year One was a 4-and-8 debut. The young roster drew a tough opener at West Virginia and lost a heartbreaker to Georgia in week three — one could argue they never really recovered. Florida, LSU and Kentucky beat Mizzou by a combined score of 117-45; the Tigers lost to Tennessee by 26 points, despite a school record 740 yards of total offense; and MTSU beat Missouri in Columbia.
The Tigers did rebound to win two of the final three, beating Vanderbilt and overcoming a 24-7 halftime deficit to knock off bowl-bound Arkansas. "I thought winning two out of the last three was huge, and then having the total yards we did against Tennessee," Drew Lock says. "I think that started to show a little bit more what we're capable of and what we know we're capable of. I think having had that momentum going into the off-season, you can look back on that."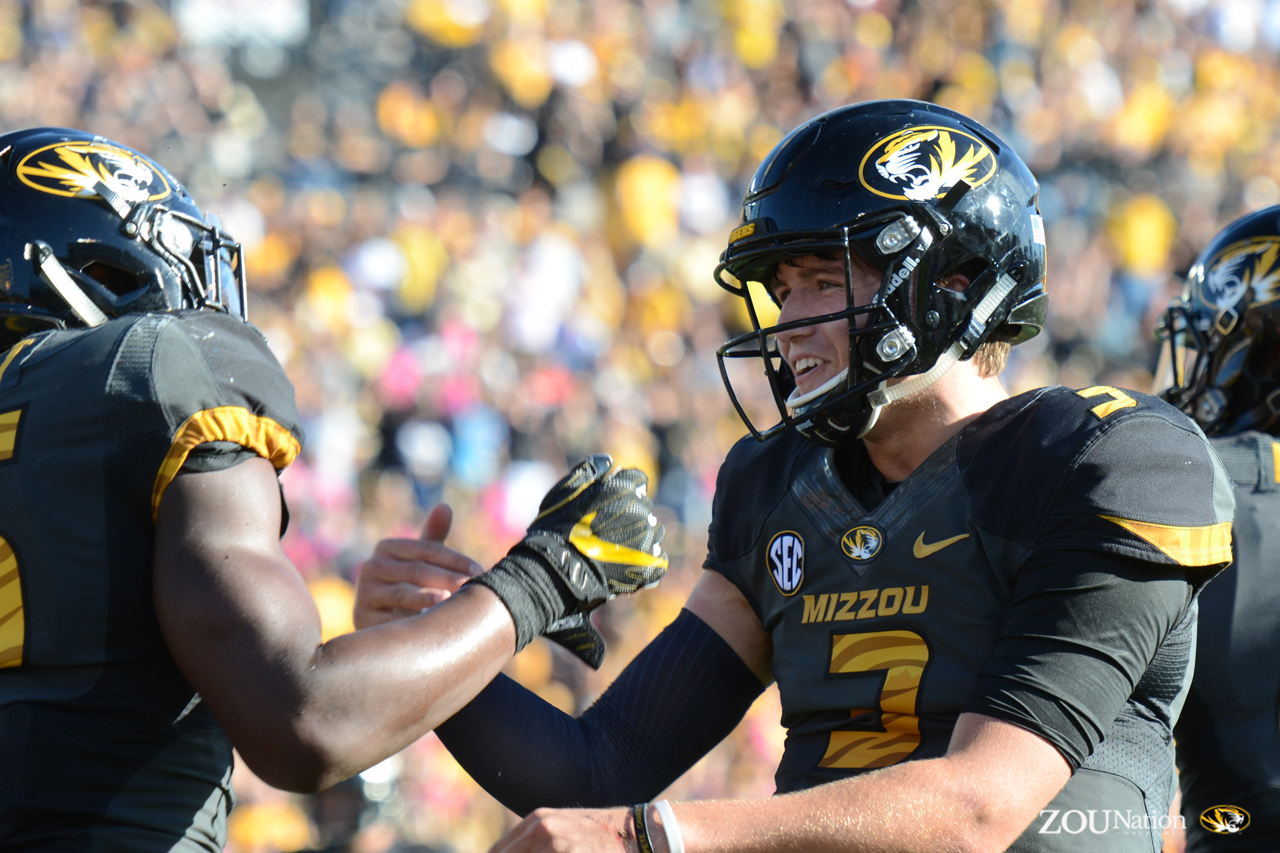 The optimists will say that final stretch indicates a team ready to take the next step, particularly when 10 of the offense's 11 starters return (Kendall Blanton and Jason Reese will step up to replace tight end Sean Culkin). Following the Arkansas game, Missouri ranked 15th in the FBS in total offense, averaging 500.5 yards a game. But the pessimists will point to a defense that tumbled from one of the nation's best to one of its worst, as Odom moved from defensive coordinator to head coach and handed the reins to DeMontie Cross. In 2015 the Tigers stood at 302 yards allowed per game, sixth in the FBS in total defense. Last year, the unit fell to 117th with 479.7 yards allowed per game.
"I don't ever wait for the end of the year and ask 'Why weren't we very good,' " Odom says. "The air's cleaner, I like our staff, I like our locker room, and I'm excited about what this team's going to do."
Everyone recognizes improvement has to happen. Last year was Missouri's second consecutive season with a losing record. Stacking a third on top of it would make it that much tougher to emerge from the tailspin. So what marks improvement for Odom's second season?
"I think to get to six wins is progress," says Director of Athletics Jim Sterk. "I think that's a minimum of what you would want, what our alums want. As a team, they'll be disappointed with that, but I think that's moving forward and being bowl eligible. And getting a great bowl, I think that's really important for us."
"I have felt pressure every day of my working life," Odom says. "I think being in the proverbial hot seat, I put that on myself. When I started as a GA for Coach Pinkel in December of 2002, I felt like I was on a job interview every day of my working life, and I've continued that approach every day."
Odom was the one to bring up the term 'hot seat.' Most aren't there just yet, including the only person whose opinion really matters. "I think he took over the program in kind of a tough time," Sterk says. "There was a lot going on, and I think he's really stabilized it and is preparing to move forward. I like what I see there, and I think they're excited as a group as well."
Outside of Columbia, not many have faith. USA Today released its annual preseason polls with Missouri finishing an optimistic 7-5. League media had other thoughts. The Tigers were picked seventh (last) in the SEC East following July's Media Days. They finished nearly 200 points behind 6th place Vanderbilt in the preseason poll. Only wide receiver J'Mon Moore (2nd team) and defensive
end Marcell Frazier (3rd team) received any individual preseason recognition.
And so, Missouri finds itself in a familiar position: having to prove itself. "I think they're coming out to win a title," Sterk says. "Whether they do or not, I think there are a lot of factors that will play into that, but they have a great group coming back." The Tigers have been here before. They were picked 6th in the East in 2013 and 4th in 2014. They won the division both years. That goal may be a bit lofty for these Tigers, but time will tell.