Why Unconventional Training Works
For These Mizzou All-Americans

When Carjay Lyles, the Missouri Track and Field coach, determines whether or not an athlete can do the triple jump, he poses one simple question:
"Can you dance?"
Lyles is all about the rhythm, and rightfully so — the triple jump, along with the 400-meter run, are highly technical events that require a combination of power, speed, coordination and relaxation.
And Lyles has two of the best athletes in the nation for each.
Triple jumper John Warren is a Missouri junior who qualified for his first NCAA final in June. Then there's Sophomore Kahmari Montgomery, a 400-meter runner who won back-to-back SEC championships as a true freshman — he beat a Rio Olympian both times. Montgomery ran the 400-meter in 45.1 seconds last year. That's world-class territory. But for Montgomery to break the collegiate record of 43.9 set by Quincy Watts (University of Southern California) in 1992, Lyles is deconstructing his stride and rebuilding it to the music.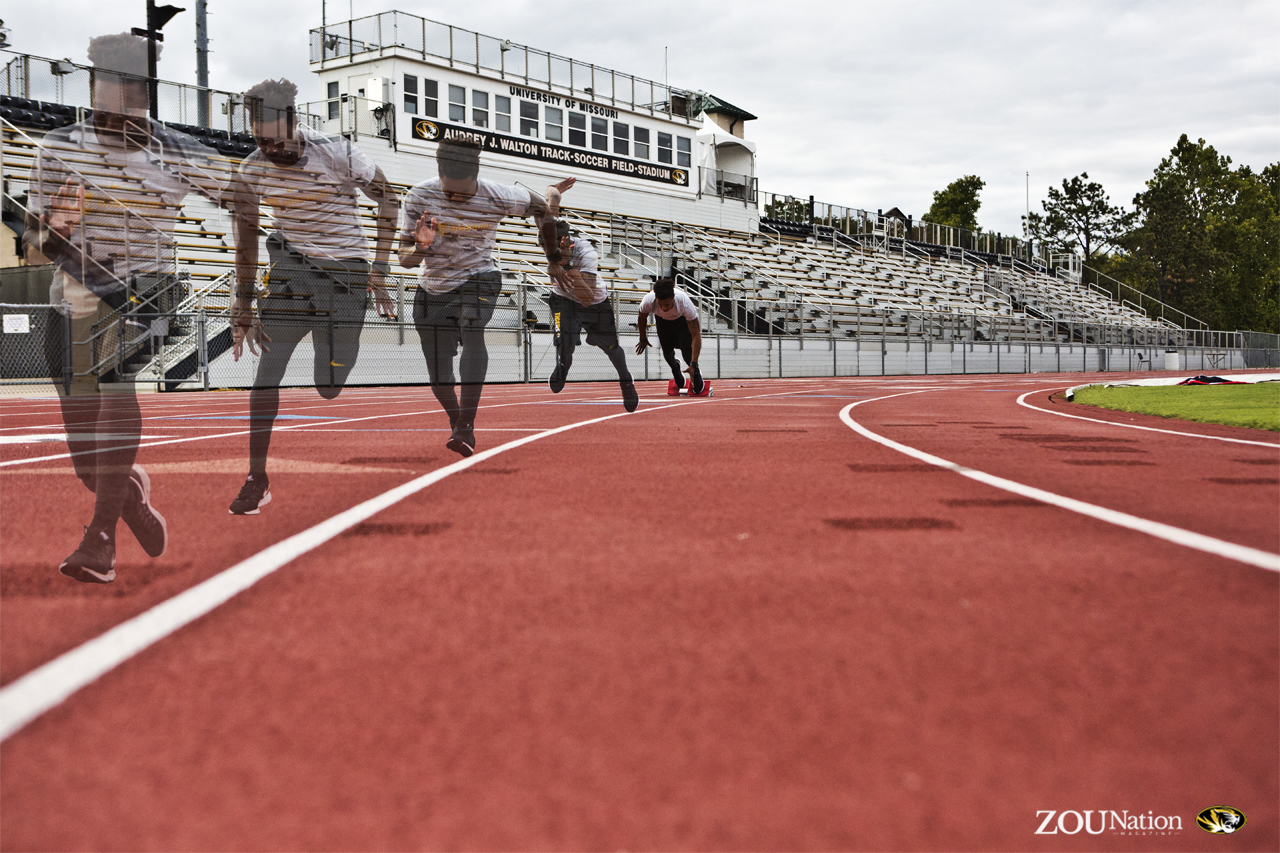 400-Meter Runner, Kahmari Montgomery
"Everything with [Montgomery] is scientifically based on his individual leg length — run outs, block starts, weight room, track stuff," Lyles says. "Once you get comfortable manipulating that rhythm, you can get your body to respond very fast or very slow."
Montgomery says Lyles has a "weird way of training," in that the coach emphasizes the minute details of each stride. "For leg cycles, he'll hold you against a wall and put his hand on the top of your leg," he says. "You would think this is just painful, but from what I used to run like and how I run now, man those things really work."
Lyles has had a triple jumper at the NCAA championships for each of the past eight years — he's a former professional triple jumper himself and says Warren is one of the greatest talents of his coaching career. The the only thing separating him from an NCAA championship? An inability to simultaneously consider all the details of his jump while on the runway — multitasking on the track, in other words.
"The triple jump is a juxtaposition," Warren says. "You want to be strong and relaxed at the same time."
Lyles recognizes there might be a deeper issue within Warren's multitasking struggles. "But I don't have to fix it on the track if I can fix it in the classroom," he says. "I'll assign him intentional responsibilities on top of stuff, just because he has to learn. When he learns how to multitask and compartmentalize between everything he does at the last minute, the track stuff becomes easy."
Traditional track coaches might call it all unorthodox, but Warren and Montgomery receive trial by fire, and Lyles wouldn't have it any other way.
"We go reckless abandonment, and they're going to get strong enough to handle it," Lyles says. "We're going to grow from that strength."
Photos: Travis Smith | ContentAllStars.com