Natasha Kaiser-Brown
In the 1990s, she was one of the fastest females in the world. Today, those experiences are for teaching, as future generations work to top her records.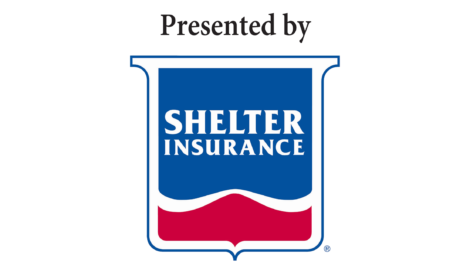 Natasha Kaiser-Brown doesn't show off the silver medal she earned as part of the 4×400-meter relay during the 1992 Barcelona Summer Olympics.
Even if she wanted to, though, she'd have to reclaim it from her hometown.
When Brown, who returned to her alma mater as an associate head track coach last August, qualified for the 1992 Olympics, her hometown of Des Moines, Iowa, helped raise money to send her mother and father overseas to watch her race.
Brown came back with the silver medal and, as a token of appreciation to the town that raised her, donated the medal to Des Moines.
"It doesn't belong to her. It's not something we have," says her husband, Brian Brown, an assistant athletic director at Missouri. "She can't even take it anywhere to show it off." It's just not in Brown's character to broadcast her own accomplishments. If you ask for her life story, she'll fill in the details, but she's not rattling off her resume unprompted.
If she were, you'd know that she was an Olympian in Barcelona in 1992 and Atlanta in 1996; a silver- and gold-medal winner at the world championships; a member of 16 U.S. national teams; a six-time All-American during her collegiate career at Missouri; and a woman who held eight indoor and outdoor school records at Mizzou — she still holds the times for the indoor and outdoor 400-meter dash.
It's just not like her to talk herself up. She learned that from her father.
"No showboating, no bragging, no flip comments, no fingers in the air when you cross the finish line," Natasha Brown says. "What I learned early on was to take any medals I had, tuck them in a shoebox and put them away. To be honest, I had a really hard time trying to remember stuff that happened, because I didn't celebrate, so it didn't come to my mind as easily.
"I really almost have to go back and Google it to remember it."
Brown served as an assistant coach at Missouri previously (1993-2000), during the height of her international career. That was before she and Brian went to Drake University in Des Moines, where she served as both the women's and men's head track and field coach.
When she speaks to the seven women she coaches at Mizzou, it gives them added incentive to heed her words; she's been there and done that — even if she needs a little prodding, sometimes, to revisit her illustrious past.
"Any place that the athletes she coaches could dream of getting to, she's been there. If it happened in track and field, Tash has taken off her sweats and put her toe on the line in that setting," Rick McGuire says. He coached Brown at Missouri and during her career as an international competitor.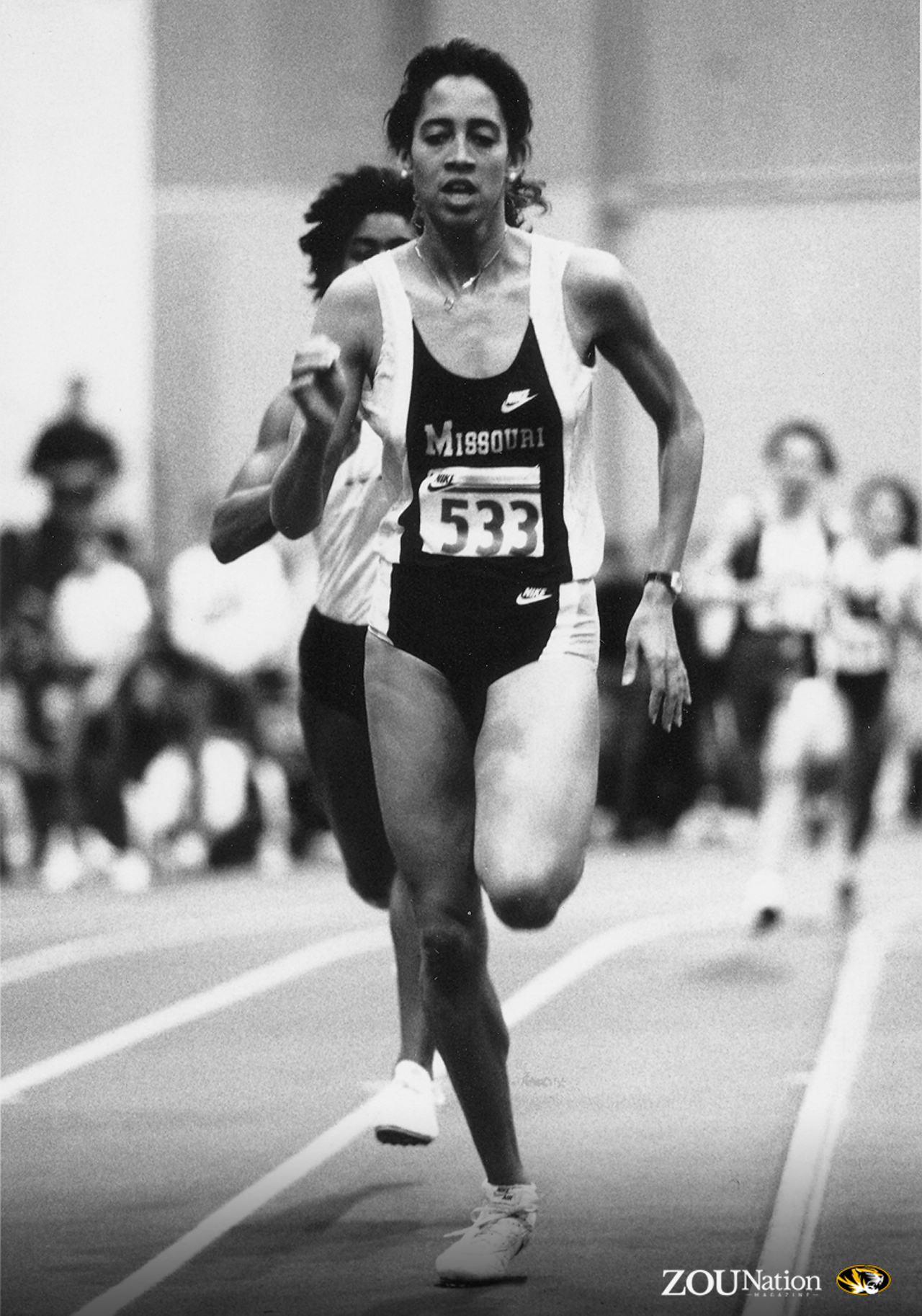 One Thing Leads to Another
Brown's earliest exposure to running came when she was chasing her brothers around the neighborhood. By fourth grade, she was lulling the fifth- and sixth-grade boys into a false sense of security during laps around the field to start recess, letting them out to a big lead before coming back and blowing them away down the final stretch.
That, too, set up a recurring theme in her career.
"She was very strong and could run faster tired than other people could," McGuire says. "That was her trademark: she had a great finish. That's how she made the Olympic team. Twice."
She was the 200-meter state champion as a freshman in high school when her coach suggested she take up the 400 to help her 200 time. She qualified for the Junior National Olympic Trials in the 400 and, at the starting line before the race, cracked a smile because a man in the front rows was trying to ask her out on a date.
McGuire was at the meet. He liked that she seemed so relaxed.
"She might be in a total turmoil inside, but she never showed that," McGuire says. "Tash and I fit well together. We both recognized it pretty early on. When you've made different choices than the people around you, over and over and over again, you get to the starting line knowing 'I've done what I was supposed to do. I've done everything I can do. I am prepared.' "
Brown got hurt on her first day of practice at Mizzou. While she was rehabbing, she heard some of the other sprinters talking about candidates
for the 4×100-meter relay team, and she wasn't one of them.
That didn't sit very well. She spent the rest of her collegiate career lowering her times in the 200 and 400, so much so that she held the indoor and outdoor program record in each by the time she left. Her pictures still adorn the banners in the Hearnes Center for the Tigers' 400-meter record indoors (51.92) and outdoors (50.86).
Tigers senior Valerie Thames says she didn't know much about Brown's running career before Brown came back to Missouri, other than that she'd been to the Olympics and "had all the records."
"For the most part, they know the history. They don't know all the details, but they know enough," Natasha says. "Once you say 'Olympics,' they're like, 'OK, so you were special?' So the only thing we talk about is 'I was not special.' But this is what I did differently."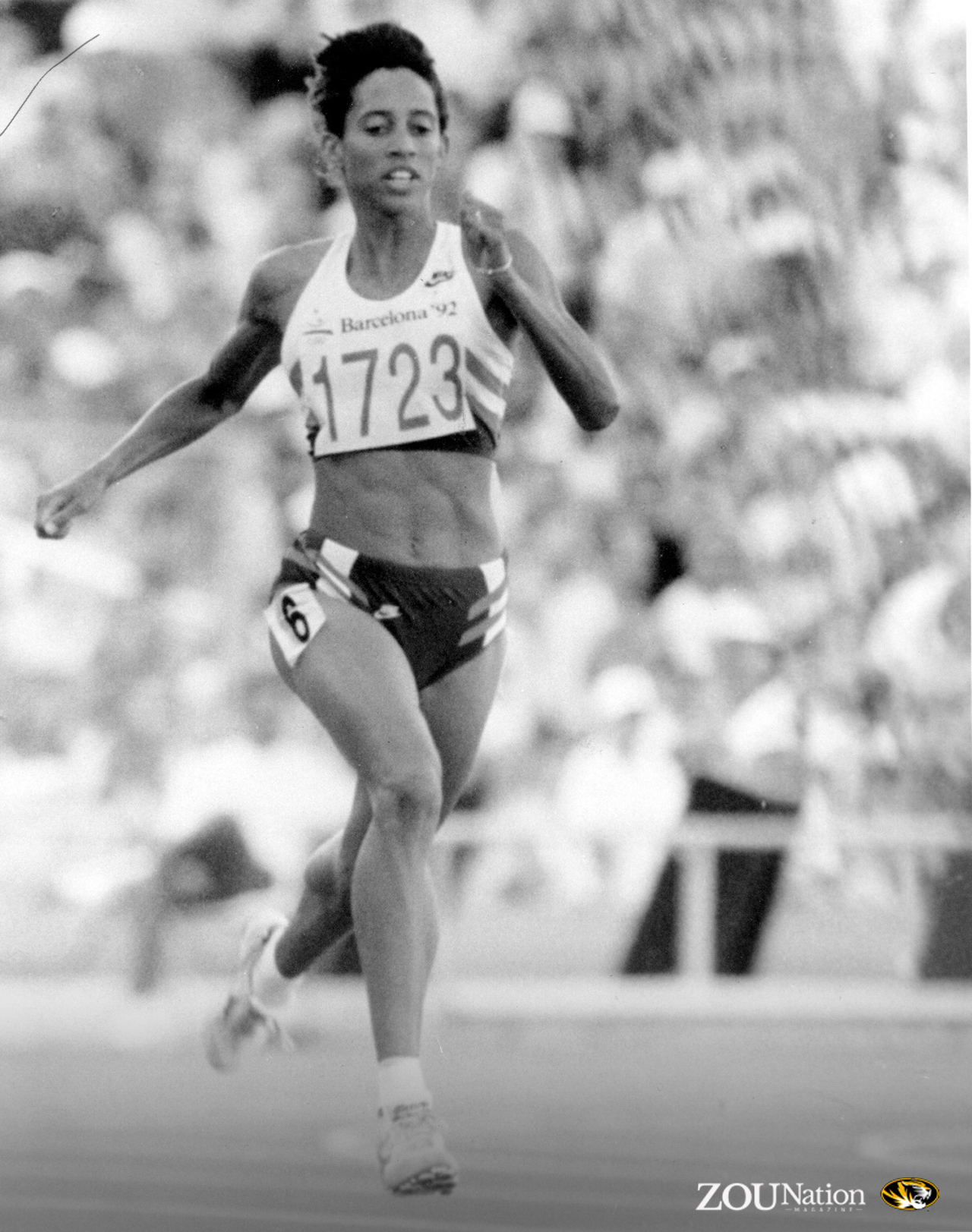 'Just Another Track Meet'
Brian Brown and Natasha Kaiser shared an unusual courtship. The details vary depending on who's telling the story of how they first met, but the gist is always the same.
He was a world-class high jumper. She was a world-class sprinter. They both made their first national team in 1989, talked extensively on the bus back to the airport and decided to stay in touch afterward. She was in Columbia. He was in Louisiana.
Through other national teams and more international competitions, Brown and Kaiser saw places together that usually are reserved for honeymoons: Lausanne, Switzerland. Lille, France. How could they not fall in love?
"There were so many workouts we did together — some that we fought at. There were a lot of arguments out there on the track and the golf course," Natasha says. "We would go neck-and-neck, really pushing the pace. And then he'd come back and be like, 'One more for Nationals.' And I'd say, 'Oh, you've got to be kidding me.' But training with him actually pushed me to be better."
Brian learned the pre-race rhythms of his partner: how she hated everything in the lead-up to the event. How a sense of calm really only came when she settled into the blocks at the starting line. During her more tense moments, Brian would just try to be there for her. Nothing more,
nothing less.
"Gimmicks didn't work. Being whatever she needed, not trying to carry the conversation," Brian says. "Just being there and, by being there, it made the moment not so surreal, not so heavy. We had a signature hug. My thing was to give her a hug and let her know that, up or down,
we're good."
So it was that night in early August 1992 at the Olympic Stadium in Barcelona, when Natasha Kaiser — she wouldn't be 'Brown' for another three weeks — took the track for the women's 4×400-meter final.
She had already weathered a stressful run through the U.S. Olympic Trials. The finish was so close that she wasn't sure she had made the team until she took a very cautious victory lap and saw the results flash on the scoreboard.
She made it to the semifinals of the individual 400-meter competition at the Olympics and missed a finals berth by two-tenths of a second.
Now, she was slotted to run the first leg of the relay. She hated running the first leg.
"I'm standing, and I'm thinking, 'This completely sucks. I don't want to be here. I'm a wreck,'" Natasha says. "But then when you realize your face is on TV back home, and you get all the face time, I'm like, 'This is actually the coolest thing. Everybody's back home and seeing me standing here?' "
McGuire always made a point to tell his athletes that, no matter how prestigious the meet, the dimensions of the track were always the same. Brown was one of the best in the world running 400 meters, once around the track, back home in Missouri. Why wouldn't the same be true in Barcelona?
After a momentary thrill that came with the realization that millions of people were seeing her face on television — and the not-so-momentary annoyance of having to head back to the starting line after a false start — Brown took that message to heart.
"To be honest, it's just another track meet," she says. "In your mind, nothing changes, other than the level of competition and the name. But it's still just a track meet." The gun sounded, and Brown took off from her spot in lane six. She made up the stagger on the runner to her right around the second turn and, when she handed off the baton to the second American runner, she had her team in first place.
Then it was off the track, get some water and watch the rest of the race.
"It is the coolest — but the most stressful — thing you will ever go through," she says. "You get these 50 seconds of fame, then you're done."
The Unified team, made up of athletes from 12 former Soviet republics, drew even with the Americans at the end of the third leg, then passed them for the gold medal in the final straightaway.
Brown and her teammates stood on the medal stand while another national anthem played. But the next year, at the World Championships in Stuttgart, Germany, Brown got to hear "The Star-Spangled Banner" on the medal stand twice. Once when she finished second to American Jearl Miles in the individual 400, and again when she was part of the World Champion 4×400-meter relay team.
"When I hear (the anthem), it's different for me," she says. "I flash back to that moment of standing on the award stand, and they're playing our national anthem. That was a big deal."
The Next Generation
This spring, after a weight-room session, some of the sprinters that Brown coaches got curious.They pulled up her individual 400-meter race from the 1993 World Championships on YouTube and called her over to watch it with them.
"Do I get anxiety attacks when I watch it? Yeah, I get that," she says, with a laugh. "When I see it, I remember everything I was thinking at that time."
The runners asked her about the other competitors in the race. They watched her form, saw her stay strong over the last half of the race, listened as she described to them, in detail, her strategy and how she executed it.
If it wasn't exactly a pleasant experience for the coach, it was at least a valuable learning one for her athletes.
"I believe having personal experience makes her very credible for her position right now; just the fact that she knows what it took to get there and, pretty much, the times are the same as what she was running," sophomore Maya Cody says. "That's what it's going to take for us to get to her point. When she tells us to do stuff, we believe that she knows what she's talking about because she's been there and done that."
That's exactly what head Missouri track and field coach Brett Halter was expecting when he brought Brown back to Columbia last summer. He and Brown shared an office as assistant coaches during her first stint at Missouri, and Halter was close with both her and Brian.
Halter says it's difficult for successful track athletes to be successful coaches because the sport, as a rule, is a primarily individual endeavor. They have to rely on themselves, so they tend to fall into a bit of a selfish mindset.
That, Halter says, has never been a problem for Brown.
"A coach has to be selfless, put the athlete out front," Halter says. "It's no longer about them, their medals and accolades. It's about the kid."
And it's why Thames couldn't bear to give Brown the cold shoulder, even if she wanted to after being disappointed with a pre-season coaching change.
"Initially, I fought it, but you really can't fight Coach Brown for too long," Thames says. "She's such a good person."
It's why she kept her ribbons in a shoebox and gifted her Olympic silver medal to her hometown. It's why you have to be the one to broach the subject if you want to hear about that time in her life during which she just happened to be one of the fastest women in the world. Those experiences are for teaching, not for boasting.
"Natasha appreciated how the key people in her sport life provided for her a great deal," McGuire says. "She knew that she had people who knew it was all about her getting every opportunity and having her ready to deliver when those opportunities came. I think you can see the direct line to how that impacts her coaching of others. She knows that she went to the line in huge races knowing she wasn't alone."
For Brown, success as a Missouri coach means her name slipping farther down the list of top times in program history.
She's OK with that.
Photos by Travis Smith