Perspective has helped shape the career of Mizzou's Cuonzo Martin
Through adversity and a cancer diagnosis, one unwavering theme has persisted in Cuonzo Martin's life: continued perspective.
When you've been tasked with rebuilding a major-college basketball program, it's important to have perspective. Cuonzo Martin has a Ph.D. in it. He grew up on the crime-ridden, drug-infested streets of East St. Louis, Illinois. In 1991, he arrived at Purdue on a knee so unstable that the medical staff questioned whether he would ever play for the Boilermakers. And at 26, he wondered whether he'd live to see his next birthday after a doctor diagnosed him with non-Hodgkin's lymphoma.
"For me, losing was tough, as a player and a coach," Martin says. "Then you understand there are bigger things in life. Learn from the losses and keep moving. Applaud the wins when you get them. Value life itself, and don't take the little things for granted. Every birthday is important because there's no guarantee there will be one next year."
Resurrect a program that over the previous three seasons was 27-68? No sweat. That's the job facing Martin, who on March 20 was introduced as the 19th coach in Missouri basketball history. After head-coaching gigs at Missouri State, Tennessee and California, he is essentially coming home to a team that is on NCAA probation, has APR concerns and is lean on talent. Or at least was.
Basketball programs are rarely turned around in the spring and summer, but the Tigers are making an awfully good go at it. Already, the resurgence has been nothing short of remarkable — think a snowball rolling down the mountain, as Missouri athletic director Jim Sterk puts it.
On the morning of March 15, PowerMizzou.com reported that the Porters — Michael Sr., Michael Jr. and Jontay — were yearning to come home. They had left Columbia in 2016 for the Pacific Northwest. Dad had accepted a job as an assistant coach at the University of Washington; Michael Jr., the No. 1 recruit in the 2017 class, had signed a letter of intent with Washington; and Jontay, a five-star talent in the '18 class, had committed to the program as well. On that March afternoon, Missouri announced Martin's hiring; hours later, Washington fired coach Lorenzo Romar. In a matter of days, Washington released Michael Jr. from his letter of intent, Michael Sr. accepted a job as an assistant coach on Martin's staff, and, as Missouri fans waited in anticipation, Michael Jr. announced his commitment to the Tigers, tweeting: "Mizzou Nation, I'm coming home!!!" (Jontay, a 6-foot, 11-inch power forward, took his official visit on April 24-25 and committed soon thereafter. On August 9, he announced he was reclassifying and would join his brother on the court this season.)
The good news kept coming: On April 3, combo guard C.J. Roberts, a four-star prospect from North Richland Hills, Texas, said he would not ask out of the letter of intent he had signed in the fall of 2016. Six days later, at the end of his official visit, point guard Blake Harris, a three-star recruit from Raleigh, North Carolina, committed to the Tigers. Harris, like Porter, had originally signed with Washington. On May 3, Kassius Robertson, a sharp-shooting graduate transfer from Canisius College in Buffalo, New York, came on board.
Meanwhile, Porter Jr. put on his recruiting hat, encouraging other elite players to join him in Columbia. Jeremiah Tilmon, a four-star center from East St. Louis, was granted his release from Illinois. He committed to Mizzou on May 15. The biggest surprise involved Kevin Knox II, a 6-foot, 8-inch wing from Tampa who was on the same visit with Harris and Porter Jr. The ninth-ranked recruit in the country, Knox had been courted for two years by bluebloods Duke, Kentucky and North Carolina, along with Florida State, where his father played football. Missouri had been in the picture for a mere three weeks when Martin, with an assist from Porter Jr., persuaded Knox to use his last official visit on a trip to Columbia. He was in town with his parents on the same weekend as Harris and Porter, and the welcome the three stars received from students was overwhelming. Although Knox tweeted on May 6 that he would attend Kentucky, Harris, after indicating that a decision wasn't imminent, came away so impressed that he committed before the weekend was over.
"I've never seen anything like that on a campus I've been a part of as a player or a coach," says Martin. So what's the attraction? What about Cuonzo Martin is so appealing to the players and their parents?
Roberts is an interesting case study. He had fallen in love with Mizzou and Columbia during a visit last year. "I know you want me to visit Georgia and LSU," Craig Roberts recalls his son saying. "I'll go, but I know I'm coming here." C.J. signed his letter of intent in November.
But he signed on believing he would play for Kim Anderson. Craig Roberts has met a lot of college basketball coaches during the 22 years he has worked on the AAU summer circuit. Martin wasn't one of them, so Roberts understandably had his reservations. Like any good parent, he conducted background checks. Everyone kept saying the same thing: Cuonzo is going to be great for your son. (Some coaches even reached out unsolicited.) Still, Roberts needed more reassurance that he could trust Martin. So he convened a meeting with Martin at Richland High School and invited, among others, C.J.'s coach, Richard Bacon, and his long-time trainer, Donny Beacham. Martin got his message across.
"He was very straightforward, very matter-of-fact," Craig Roberts says. "He did not waver. He told C.J., 'There are going to be some days when you don't like me too much because I'm going to be all over you. But I know, and you're going to know, that I still love you. I'm not afraid to put my arm around you and hug you and tell you I love you.'
"He told C.J. he was going to get what he earns. If you earn 30 minutes, you're going to get 30 minutes. If you earn 20 shots, you're going to get 20 shots. If you don't earn it, you don't get it."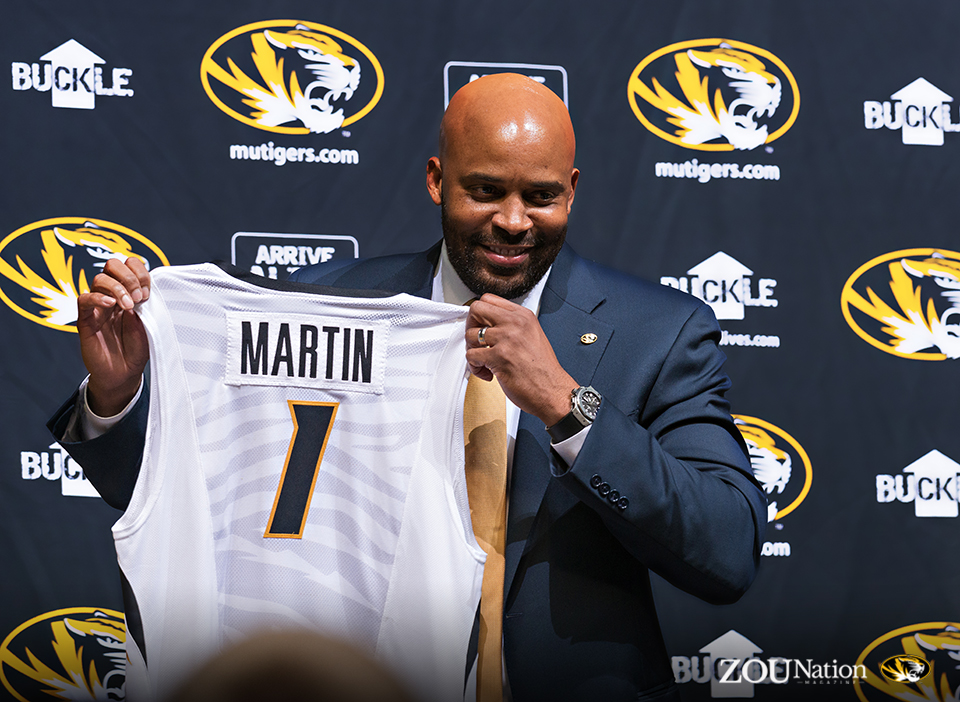 Going back to early 2017, it was the worst-kept secret in college basketball that Missouri might be in the market for a new coach. Never mind the run of defeats. The program was bleeding money. As recently as two years ago, the empty seats at Mizzou Arena had resulted in a $2.3 million loss in ticket sales alone. The Tigers were 5-7 and had suffered home losses to North Carolina Central, Eastern Illinois and Lipscomb when Sterk issued a press release on January 4. "I clearly understand where our program is currently, and rest assured that we are all disappointed with where we stand entering SEC play," he said.
As he kept one eye on the basketball court, Sterk began working behind the scenes, putting together a list of prospective candidates. He leaned on a couple of coaches at his previous stops — Steve Fisher at San Diego State and Tony Bennett, then of Washington State and now the coach at Virginia. He used a family connection to pick the brain of Mike White at Florida; White's brother, Brian, is a senior associate athletic director at Mizzou. The preliminary work gave Sterk a better feel for the market. Research in hand, he went to the Board of Curators and outlined what kind of money he'd need if he decided to make a change. It wasn't going to be cheap.
"I knew we had to have that done ahead of time, otherwise, we might not get somebody," Sterk says. He recalls the message he delivered to the board and university leadership: "We're going to have to get out of our comfort zone a little bit if we want a sitting Power Five [conference] coach."
Though it wasn't announced until the end of the regular season, Sterk informed Anderson he was out after a February 25 loss at Ole Miss. The wheels were set in motion. And as he began his covert search for what would be his first significant hire at Mizzou, Sterk knew what his budget was.
"Once you're in the middle of it, there are piranhas out there," he says. "It's a good thing we did [get approval], because we were able to put our best foot forward with Cuonzo. I had the security of knowing the board was supportive of what I was doing. I knew what my offer could be. That helped us beat Illinois. Cal came back at him as well."
Martin didn't come cheaply: $21 million over seven years. It's what the market dictated. Plus, the fact that the Board of Curators authorized Sterk to spend that kind of money spoke to the university's commitment to making basketball relevant again.
Naturally, Sterk kicked the tires on other candidates, but his search kept coming back to Martin. He came highly recommended by his peers and those for whom he had worked. Sandy Barber had hired Martin at Cal in 2014. She's now the athletic director at Penn State. Close friends, she and Sterk had started together as associate athletic directors at Tulane. As the president at Missouri State, Mike Nietzel had given Martin his first head-coaching opportunity, in 2008. The two remain friends to this day. The more people Sterk contacted, the more sold he became. Most appealing was that he never ran across anyone who had a bad thing to say about Martin.
"I was really impressed that he had been a head coach at three institutions, and he had a great background," Sterk says. "Every place got better. Every place wanted to keep him. He had been hardened under some adversity. He had gone through some personal stuff, with cancer and where he grew up. He was giving back to the community."
Then there were the intangibles: Martin was born and raised in the shadow of the Arch. He has local recruiting connections. "That was an added bonus that could really help us begin to make better inroads into the St. Louis area and all of Missouri," Sterk says.
David Lee, Tyler Hansbrough, Brandon Rush, Bradley Beal, Otto Porter, Ben McLemore, OG Anunoby, Jason Tatum: You could field a pretty salty team with the litany of stars who have escaped the state over the past 15 years. Martin and his staff will recruit nationally if not globally, but the foundation can be built by persuading talented kids to stay close to home.
Enter Michael Porter Jr. When the family packed up and moved to Seattle, all indications were that Mizzou had let the biggest of stars escape. But time away helped the family realize just how much they missed Columbia. That news was relayed to Sterk in February by women's basketball coach Robin Pingeton. It was yet another family connection: Pingeton's sister, Lisa, is married to Michael Sr.; Pingeton also coaches Bri and Cierra Porter, and Michael Sr. had previously worked on her staff as an assistant coach.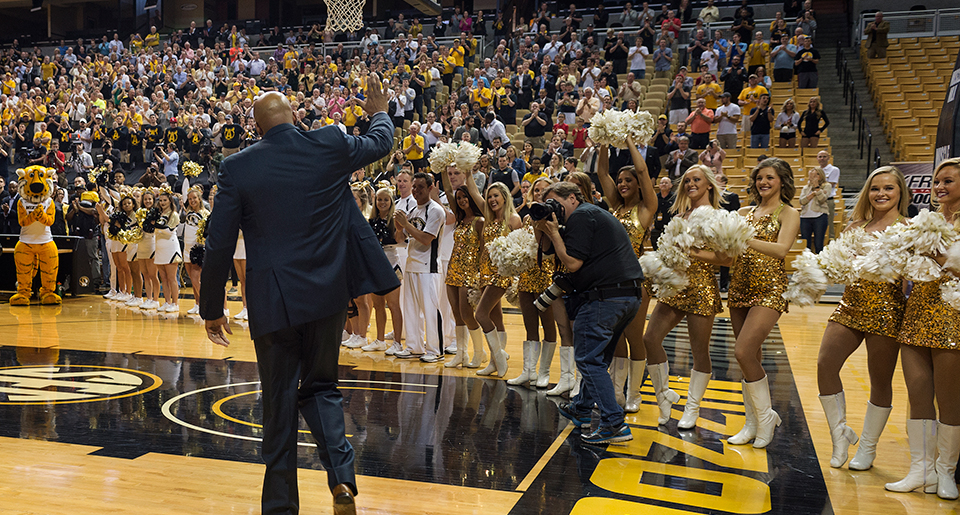 Because the Porters had left town before he came on board, Sterk had never seen Michael Jr. play. Google became his friend. "I got really excited about that possibility," Sterk says. "I couldn't imagine this working out as well as it has. I had hoped we would create some momentum and an opportunity to get Michael, but I didn't know what kind of recruiter he was. To have someone of his stature is great — No. 1 recruit in the country, McDonald's All-American. He's just a real genuine kid, and he understands how he can be better by having better players around him. He was the wild card I didn't envision."
As of mid-April, season ticket sales were up almost 1,500, a number that has been growing daily. Based on feedback from the Board of Curators and others in St. Louis and Kansas City, Sterk senses a really good feeling around the state.
Gabe DeArmond, the publisher of PowerMizzou.com, has the numbers to quantify the spike in enthusiasm. From March 5 to March 30, average page views on his site doubled over the week before Anderson stepped down. March saw a 41 percent increase in page views, and subscribers spent 72 percent more time on the site than in February. As for message posts — because, after all, everyone wants to tell Sterk and Martin how to do their jobs — March had 21,000 more posts than February and 10,000 more than any other month in the past year. It's been good for business too. "I can tell you that in the calendar month after Kim Anderson's resignation, we've never added more subscribers over a 31-day period," DeArmond says.
The draw, of course, is Porter, a fluid 6-foot, 10-inch wing who can do it all. Among other things, scouts rave about his length, the elevation he gets on his jump shot, his ability to play inside and out and his three-point range. He is the first overall pick in more than one 2018 NBA mock draft.
"First and foremost, as far as his off-the-court attributes, you have to give a lot of credit to his parents," Martin says. "They put him in a great position to be a successful young man, not just in sports but in life. You can see his humility, his ability to embrace other young guys. He understands how to have love and compassion for other people. As far as his ability to play the game, again his mom and dad did a great job of putting him in the position, working on his shot. Here's a guy, 6-10 or 6-11, the way he shoots the ball, the way he handles the ball — obviously his parents did a great job in his development."
The Tigers will play fast, because that's the way kids want to play these days. Assistant coaches Cornell Mann and Chris Hollender will oversee the offense. Most recently an assistant at Oakland (Michigan), Mann plans to install a system not unlike the one run by Iowa State when he was an assistant in Ames from 2011-15. Martin chuckles at those who label it an NBA-style offense.
"Everybody says NBA-style because it sounds good, but what does that really mean?" he asks. "We're playing with a 30-second shot clock, so when you hear 'NBA-style,' you say, 'Which NBA team is that?' We'll try to generate more offense, put guys in position to score in the first seven to 10 seconds of the shot clock. If not, execute your offense."
With the assistance of Porter Sr., Martin will coach up the defense because, well, that's what he does best. It's a mindset and toughness he undoubtedly adopted growing up in East St. Louis and as a disciple of Purdue coach Gene Keady. It wouldn't be a stretch to say that Martin even has a little Norm Stewart in his philosophy. "I get so consumed with the defensive side of the ball," Martin says. "That part will never change. You have to have that to be successful."
How does he measure success? Martin is not a goal-setter in the strict sense of the word, but he knows what the expectations are: Get into the NCAA tournament, then play late into March, if not April. He believes the Tigers aren't far off, that even on a team that finished 8-24 last season, there are pieces to build around. Throw in the influx of talent and the fact that the SEC gauntlet is not overly daunting, and the turnaround can be swift. Look at TCU, which went from 12-21 in 2015-16 to an NCAA tournament bubble team and NIT champs under first-year coach Jamie Dixon. Craig Roberts points to the dramatic resurgence at SMU. So at the same time he preaches patience, Martin doesn't want the fans, and especially the students, to temper expectations.
"Our fans have had some tough times in the past several years," he says. "So we want those people to be excited about what we're doing, because that means there's passion and enthusiasm. It's our job to be entertainers on the court. We need to work as hard as we can to be consistently successful. The energy [among fans] is good. That's the same thing we talk to our players about. We're better people with more energy and enthusiasm."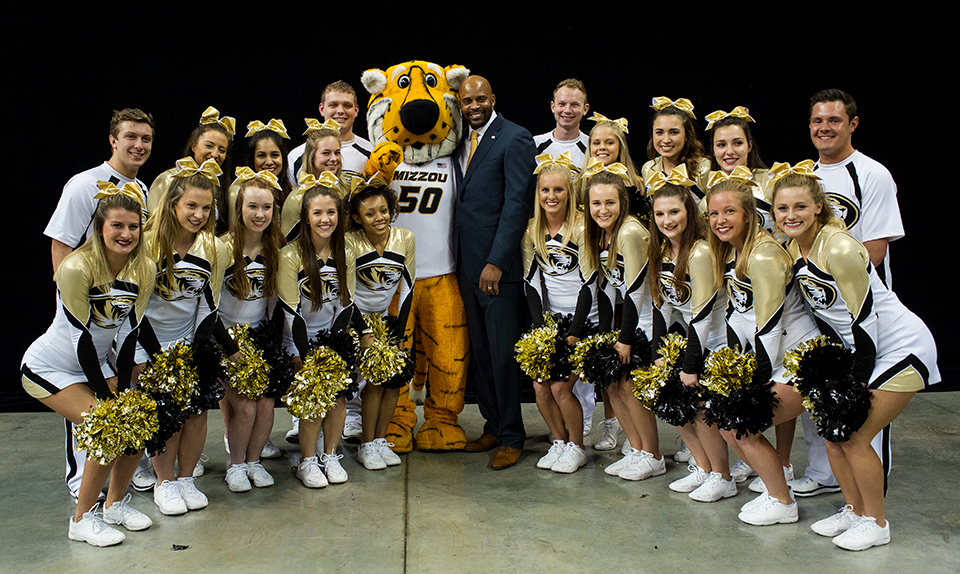 Martin would have loved to come to Columbia when he was a candidate for the job in 2011, and who knows what state the program would be in had that happened. Now he arrives with six more years of experience, 205 games on his résumé, and lessons learned on and off the court.
"The experience and the wisdom of going through something over the course of time helps you develop as a coach and a leader — making mistakes when you coach in games, learning from those mistakes, beating big programs early in your career and understanding how you beat those programs, developing young men, and allowing your staff to be a part of what you're doing, not just recruiting, but the whole piece: the video recording, scouting, watching film, developing student-athletes. You need everybody to be successful," Martin says.
It helps when you can maintain perspective. Martin was a sophomore at Purdue when he walked into an Arby's in West Lafayette, Indiana, on the first weekend of the 1992 school year. It was by chance that he bumped into Roberta Jones, the woman who would become the love of his life. "I like to tell the story that she came up to introduce herself to me, but she tells it totally differently," he says with a laugh. "So we'll take her version."
Wooing Roberta was his first — and biggest — recruiting coup. The courtship lasted almost three years; they were married on June 14, 1995. Son Joshua arrived two years later. Martin was doing what he loved most — playing basketball. Life was good. And then came the cancer diagnosis, the discovery of a four-inch tumor, the news that his odds of beating the disease weren't good, and four months of strength-sapping chemotherapy treatments. Martin might not be one for setting goals, but he made one then: to see his son turn 18. Joshua was four months old.
"If you listen to that story and aren't inspired," DeArmond says, "then you've got no soul."
Martin had his last treatment and was declared cancer-free on April 20, 1998. You remember the dates. "Those dates are like Christmas to me," he says. "I remember them vividly." Today, Joshua is a 19-year-old freshman at Purdue. Chase is 15, and daughter Addison is 9.
"I'll never forget when the doc said it's life-threatening," Martin says. "And you're sitting there wondering, Will I be here tomorrow? That's why I said you try to applaud those little things in life. Often you can't get them back."
The first game of the Cuonzo Martin era at Mizzou is still three months away, but in a short time he has electrified a fan base and put Missouri basketball back on the map. It's remarkable when you think about it. He and his staff have hit the recruiting trail hard. He has traveled around the state conducting countless interviews while spreading his message. Not everyone has the talent of Michael Porter Jr., so while Martin talks about basketball, he also stresses the importance of developing young men and enriching their lives. Authentic — that's the word that comes to mind.
And perspective.
Photos: Mizzou Athletics