Trent Dilfer: Drew Lock has NFL skills needed for a breakout season
In the summer of 2014, a shaggy-haired 17-year-old from Missouri landed in Beaverton, Oregon, to compete against a stacked deck of Elite 11 quarterbacks — Blake Barnett, Kyler Murray and Josh Rosen were just a few of the impressive arms in the camp. The summer event is without question the most-hyped quarterback showcase and skills competition for rising high school seniors.
For Trent Dilfer, Super Bowl-winning quarterback and Elite 11 coach, the annual camp is an opportunity to evaluate highly talented athletes.
Drew Lock was among the invitees. He just wasn't sure he belonged.
A year earlier, Lock's dad, Andy, and his Lee's Summit High School coach, Eric Thomas, sat him down. They rolled tape from a previous Elite 11 competition. "You're good enough to do that," they told him. Drew studied the names of Elite 11 alums — Drew Brees, Aaron Rodgers, Ben Roethlisberger and Andrew Luck, among them. Maybe, he thought.
"I'm not one to think super big of myself, so when they told me that, I was like yeah, I think I can do that," Lock recalls. He's calm, and his is voice sincere, even amid the hustle and bustle around him. "From that day on, I thought if they can see it in me, then I should see it in me."
Confidence and profound humility — the two might seem to be a paradox in a leader. Shouldn't one run counter to the other? Not for Drew Lock; in high school, he threw for 63 touchdowns with just 12 interceptions in his final two years. But internally, separating himself from the pack — great quarterbacks from good ones — took humility and self-awareness, resilience and a willingness to learn. Elite 11 would prove to be a turning point for Lock, a moment in time when he recognized his potential. "When I came back from [Elite 11], I was [ranked] five or six out of the 11," Lock says. "I was 1-2 for most of the camp. I was like, wow, these are the best quarterbacks in the country. Again, I'm proving myself wrong."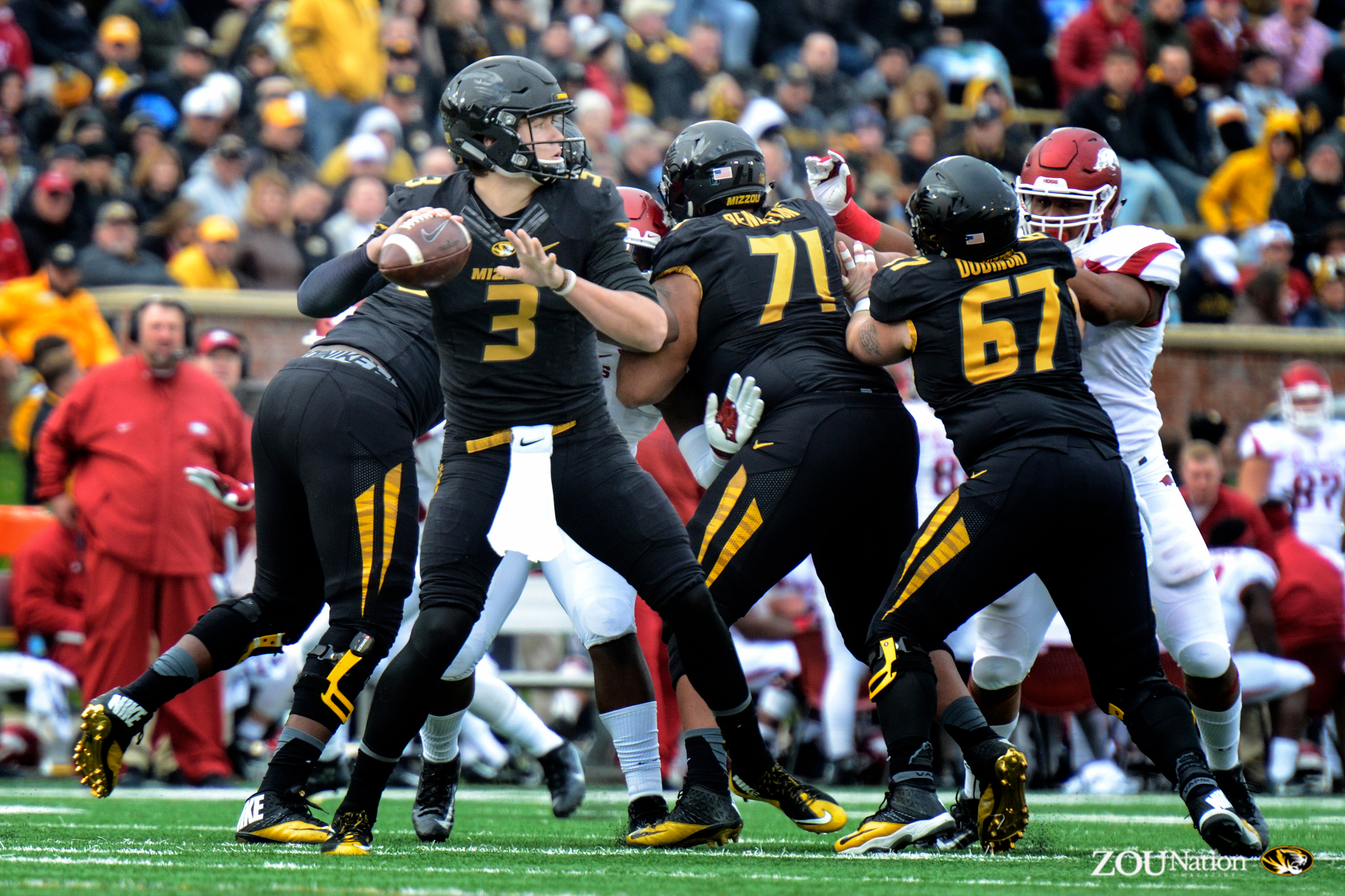 Dilfer didn't need much convincing. "I can't say enough good things about Drew," he says. "I've been doing this for seven years, and there are a lot of kids you have an affinity for, you get excited about. Drew's on that top-10 list of kids I was most excited to evaluate, coach and follow his career. He's willing to learn, willing to adapt and willing to grow. You're looking for kids who have that thirst to learn, thirst to grow, thirst to chase their potential. He has all of that."
The four-star recruit piqued the interest of those watching an elite group in the high school quarterback landscape. For Dilfer, Lock's coachability stood out, but so did his physical makeup, mental toughness, resiliency, intuition, football IQ — you get the picture. These are all attributes seen in the top quarterbacks at collegiate and professional levels. "You take these formulas and you wrestle with them," Dilfer says. "This is a kid who should have an enormous ceiling."
Today, Lock is an SEC quarterback with 22 career starts, but a 7-15 record as Mizzou's guy. Hardly a ceiling. His record comes with plenty of context, which began when he was thrown into a gauntlet of SEC play. His first career start was just five games into his freshman season.
"The first year, he was playing against a stacked deck," Dilfer says. "I think last year we started to see glimpses of his resiliency, toughness. I don't know that there's a better trait that you can have as a quarterback than that internal resiliency — that you're never going to quit or fold, just keep fighting through adversity. He's done that at Missouri."
Lock has experienced more than his share of adversity, but success is a lousy teacher, right? Progress was made through his diligence as a student of the game, digesting the playbook and offense. Last season, his first under offensive coordinator and quarterbacks coach Josh Heupel, Lock surged his passer efficiency rating to 133.3 — not terribly far from Chase Daniel's school-record 159.4. But he did that completing only 54.6 percent of his attempts in a passer-friendly offense.
Completion percentage is it for Lock. He finished his sophomore season with 23 touchdown passes and led the SEC with 3,399 passing yards, the latter somewhat inflated: During six entertaining quarters against Eastern Michigan and Delaware State, Lock threw for 852 yards and 10 touchdowns.
"The number one for me is the completion percentage," he says. Lock ranked ninth in the league in that category. "In my mind, me putting it in the dirt, overthrowing somebody or putting it out of bounds is a negative play. Bumping that completion percentage up is my number one focus, and that's how we're tracking it every day."
Lock ranked third in the league in passing yards per game (248.3), but sixth in efficiency (119.9). Then there are the wins and losses. He knows as well as anyone, above any jaw-dropping stats, that's the way a quarterback's success is measured.
Dilfer, however, cautions in getting too caught up in a quarterback's first 18 starts, outside of the resilience, endurance and some splash plays. There's a reason they're put on the field early in their career.  "Do they have the toughness to survive?" Dilfer says. "[Coaches] want to see if you can last, if you can survive, and he's done that. The big growth really starts at [games] 18 to 30. You're really looking to see that he's better at start 29 than he was at 18. This is the year we're going to see this."
In the first week of the season against Missouri State, Lock gave us those splash plays and the stats to back it up: 21 for 34 with 7 touchdowns and 521 yards, both of which were school records.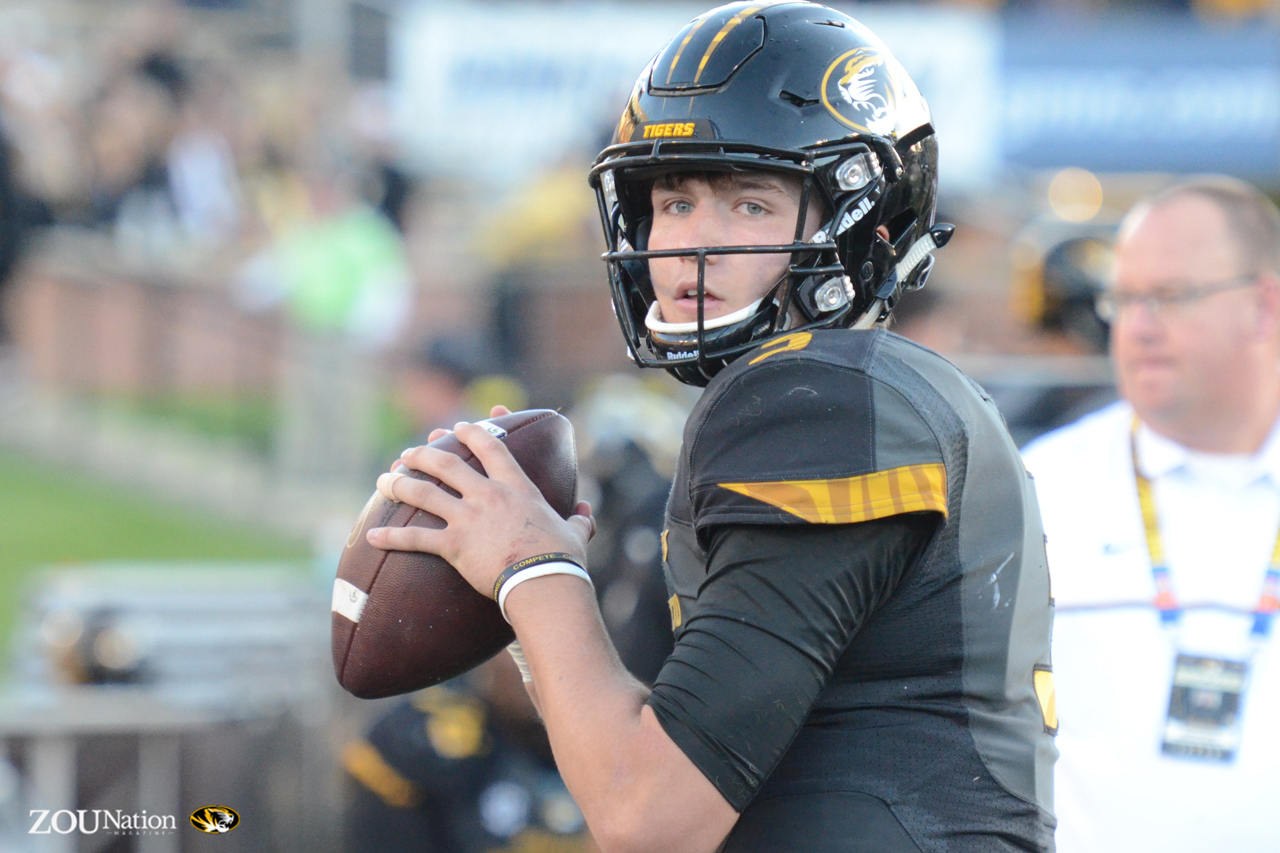 It's the off-field time that Lock has dedicated to mastering Mizzou's offense that will determine his success this fall. Lock says he was a different player when he showed up in August. What changed? "Long meetings in the quarterback room," he says. "We were starting from play one and going through every play in our playbook. It got to be really taxing, long days and really long nights. But in order for us to feel comfortable out there, we need to do that." That being to tirelessly study every defensive scheme, every hot read, every role.
It all comes back to confidence. For Lock, the first two years at Mizzou weren't unlike what he felt heading into the Elite 11 finals. But his confidence grew in Oregon as he proved he belonged. Now it's time to produce in the SEC.
Production starts with presence; every quarterback commands with it. Not animated or loud, Lock is at his best when he's relaxed, calming teammates with his personality. He likes to sing. It might be rap or country — the other day it was Randy Travis. "Being relaxed comes from knowing your job cold," Lock says. "When you're relaxed you can go out there no worries, just reading your reads, keying your keys, doing the small things to make it right."
Adds Dilfer, "Presence is a huge thing. He just has that quiet swag to him. I don't even like the word swag, but I think everybody uses it, so it paints a picture. He doesn't have to be boisterous, but he's got that quiet confidence, that quiet swag that people feel."
Lock's presence will be significant this season because there are plenty of unknowns. Can a returning offensive line, arguably the Tigers' greatest strength in 2016, perform at the same high level? What strides will Mizzou continue to make defensively? Will the kicking game come around?
And will Lock take the next step? Coach Barry Odom has watched his quarterback progress as a leader, quietly taking command of the huddle and the offense. He is reading defenses better, and the extra work he put in during spring ball and fall camp is evident. Couple his growth with the talent around him, and Mizzou's offense has the potential to be even more efficient — and explosive — than it was last year. Dilfer knows Lock's potential as a pro-style QB, but now it's time for results.
"They need to see him run the show," Dilfer says. "That's a big part on him and a big part on the offense. I think the NFL scouts — I've talked to a lot of them — are excited about his athletic makeup, but they need to see the production."
If the growth is there, Dilfer believes you might see glimpses of a Sam Bradford, the Heisman-winning quarterback Heupel helped groom. "He'll need [to show] a mastery of the offense — to see the offense and himself grow together," Dilfer says. "Really good quarterback evaluators will marry the two. They don't just look at the quarterback, and they don't just look at the offense; they look at the synergy between the two. Does the quarterback have mastery of it, and does the offense give him the opportunity to master it? If I'm a GM putting together a board of quarterbacks in the junior class, right now Drew is probably not in the top five. But I think he has a chance to be number one by the end of the season, if you're seeing that growth happen in front of your own eyes."
Football is a game of ups and downs; Lock knows it. "Especially in this conference when you've got guys lined up left and right trying to take your head off," he says. "And they're the best in the country at doing it. But this year, we're focused on winning ball games … Stats and all the rest will come with wins."
Photos by Nick MeBruer