Coach Ron Lykins and the extreme athleticism of Mizzou's wheelchair basketball
How do you coach?
I posed that question to Ron Lykins, the gold medal-winning coach of the U.S. Men's National Wheelchair Basketball team. He's also the head coach of the MU  team, at home in the historic Brewer Fieldhouse.
For starters, he told me, he doesn't just coach. "I teach more than I coach," he says. "Our exams are game days."
If games are tests, then class is in session every morning at 5:30 a.m. For five days a week at the Mizzou Recreation Center, players on the wheelchair basketball team come to learn from "Professor" Lykins. But replace lectures with intense team drills, the No. 2 pencils with basketballs and students with athletes. Now you have the absolute basic elements of a basketball practice. But just as Lykins isn't just coaching, these aren't just basketball practices.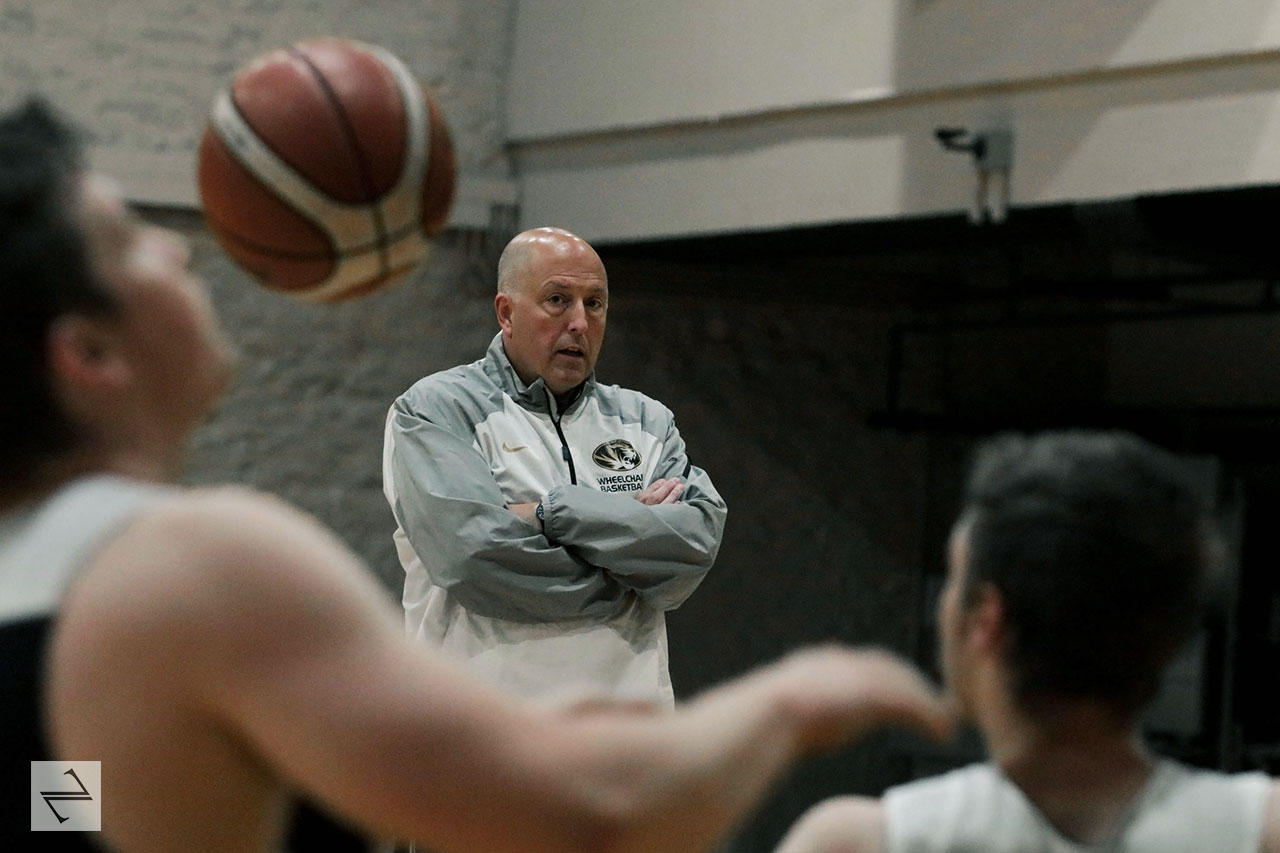 Comparing wheelchair basketball to the able-bodied sport is like comparing kickboxing to boxing. Wheelchair basketball includes most of the game's main elements, but a mandatory addition to the sport makes it unique: the chair. And not just any chair, a performance sports chair that can uphold abuse and showcase the balance between chair control and raw athletic ability.
"The chair itself is a piece of athletic equipment," Lykins says. "We got to use our arms to move, start, stop and shoot."
If you Google "how to shoot a basketball," it's nearly impossible to find a tutorial that doesn't include what to do with your legs. That's not the case in wheelchair basketball, where lower-body strength is null. "You're making quick and anaerobic movements, and now you're trying to shoot on top of that? Something as delicate as shooting, as having a touch? Your arms are dead tired," Lykins says.
Shooting isn't even the hardest part – moving is. Not only do players have to steer a wheelchair while simultaneously dribbling the ball, wheelchair basketball requires them to maneuver quickly to make cuts and set screens. It's not uncommon for players to wear blisters and calluses on their hands like gloves. It's the same stress that Kyrie Irving puts on his feet when he stops on a dime and hits a spin move. But for these Tigers, it's on their hands. Any crossovers, hesitations or movement to put a defender in a blender will have an immediate effect on their hands and arms.
As a coach, Lykins knows upper-body strength is a major force of success here, but it's not what he focuses on.
"Our games are based on positioning," Lykins says. "Inside position is crucial. In able-bodied basketball, if someone boxes you out, you can still get the rebound by going over them. Not in our game. It's very fundamentally based. We have to block out."
The inescapable importance of positioning forces wheelchair basketball to be played as a complete team sport. Isolation plays are almost non-existent, and gameplay draws comparisons to hockey and soccer, where players rely on one another to make certain cuts and properly space the floor.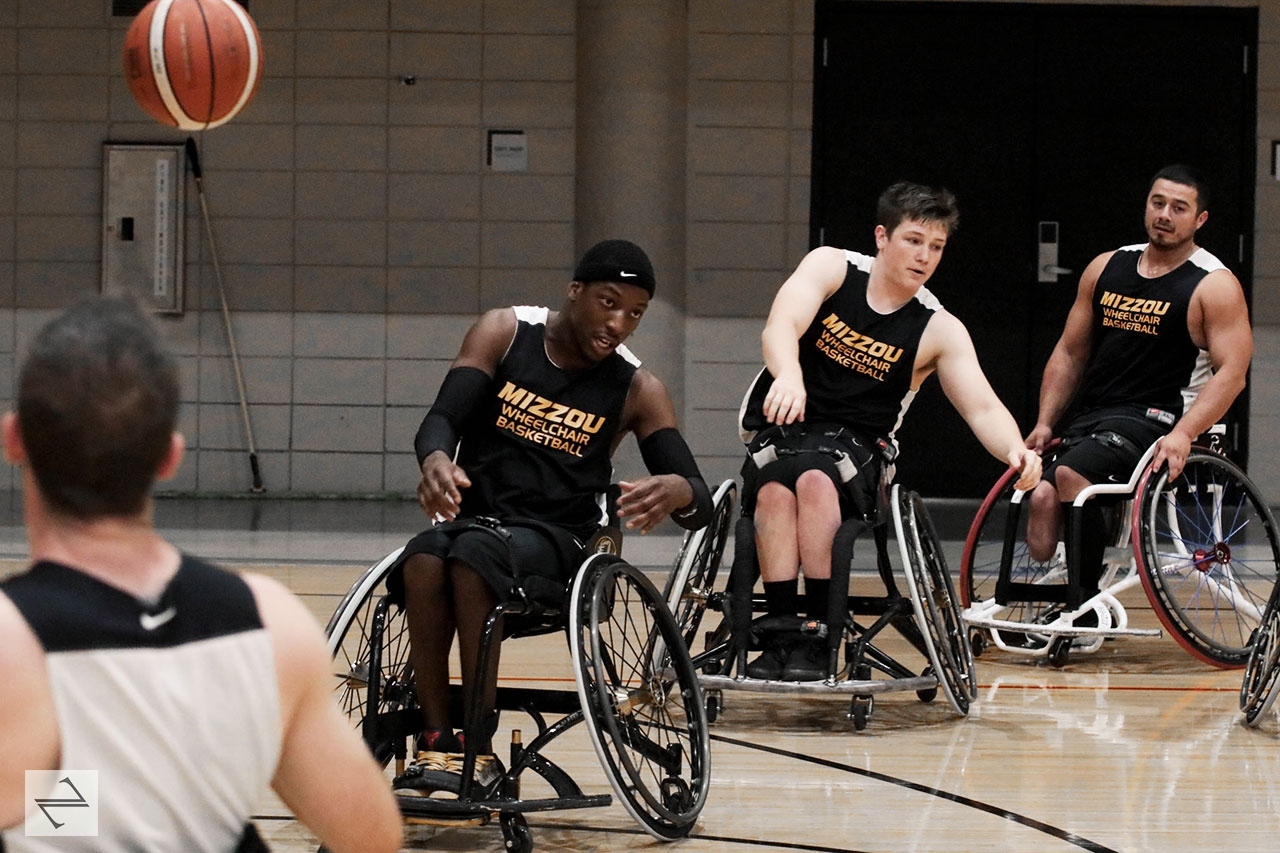 "In basketball, we have specialists and generalists. I want generalists," Lykins says. He runs a position-less system that requires players to be able to play inside and out, switch assignments on defense and position players through sets for open looks. The philosophy is like a combination of successful blueprints in the NBA: the San Antonio Spurs selfless style of play on offense and the Golden State Warriors ability to switch defensive responsibilities on screens.
"We want our guys to be able to do a little bit of everything," he says. "We try to run a motion offense, and with a 35-second shot clock, we really don't have a lot of time. Everybody's gotta play everywhere."
Lykins knows wheelchair basketball has a place in Columbia because he has seen it succeed around the world. As the head coach of the U.S. Men's National Wheelchair Basketball team, he focuses on the same coaching philosophy: teach and reach the top.
"We teach the national team all the time too. We're constantly pointing out the little things that could be the difference between gold and silver."
He knows the intricate details that separate the best and those in second place because he's won gold medals before. In fact, he's done it three times with three different U.S. Paralympic gold-medal teams in 2004, 2008 and 2016. Lykins finds gratification in coaching at various levels, but even after winning gold in destinations flush with beauty and history, like Athens or Rio, he prefers competing in Columbia.
"To represent your country in sport at the highest level? There's nothing better," Lykins says. "But to me, being at the college level is the best place to be. You get to really see the growth and development, both on and off the court."
He fosters this competitive progress within the next generation of athletes, understanding the physicality that's being asked of his players. During games and practices, players tightly strap themselves to their chairs during play – like football players and shoulder pads, they are one with the equipment. Players bump and hit opponents, aggressively jockeying for position and using anything to gain the advantage. In other words, it's as much of a sport as any other. But Lykins knows not everyone sees it that way. "Some people think, 'They're going to be in these hospital chairs, they're going to be slow, and the dribbling is going to be bad,' " Lykins says.
"The athleticism will blow people away."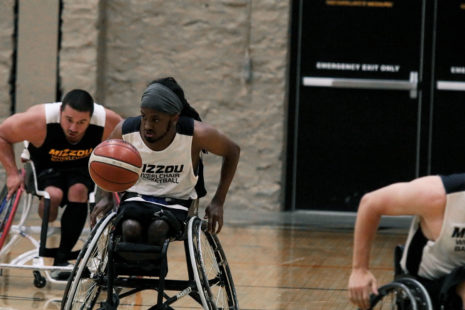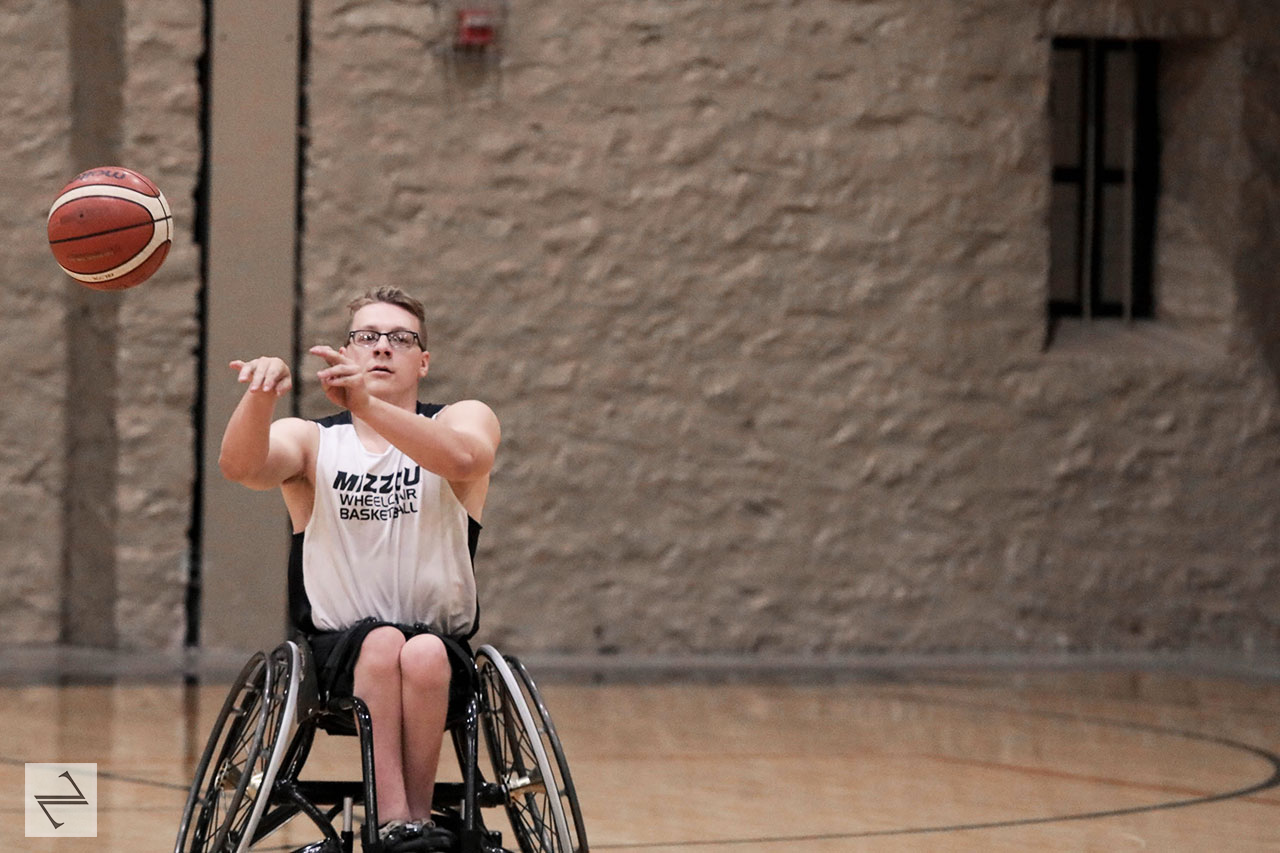 He continues to grow Mizzou's Wheelchair Basketball program, which represents the university in the Central Intercollegiate Division of the National Wheelchair Basketball Association, by "constantly recruiting" potential players to MU. Lykins scans junior tournaments nationwide – that's how he found players like James Bohnett, a former MU wheelchair basketball player from Berkeley, California, who's competed since he was a 7-year-old. Bohnett is a double, below-the-knee amputee, the result of contracting amniotic band syndrome prior to birth.
"Wheelchair basketball requires you to think constantly, whether you're on defense or offense. I chose wheelchair basketball because of its need to be both mentally and physically capable," Bohnett says. "I was invited by coach Ron Lykins to play for MU and found my opportunity to continue to play the sport I love through my college career."
Once the players are in his program, Lykins works on the application of character both on and off the hardwood. "We're trying to teach guys that they're going to fail, but that it's only temporary," Lykins says. "I hope what we do here transfers to everyday life: working as hard as you can, being on time, giving your best effort."
"[He] knows how to maximize a player's potential," Bohnett says. "Even off the court, he cares for his players, making sure that every athlete on the team is doing well. Looking into my future after MU wheelchair basketball, I have a lot of opportunities ahead of me and recognize the support I have through teammates and coaches."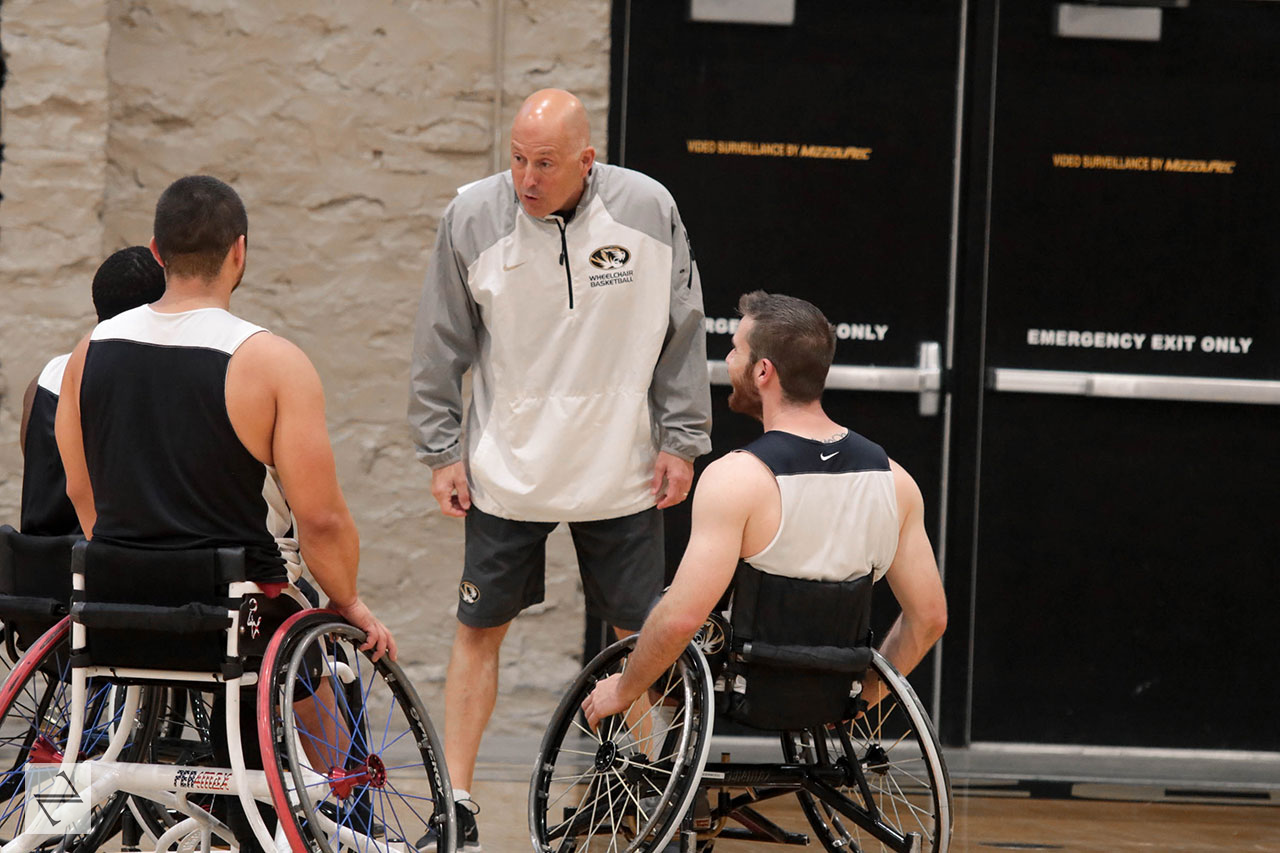 Lykins continues to look for opportunities for his players, both in wheelchair basketball and outside the sport – success is more than just wins and losses, he says. "If you don't have people willing to learn, you're not going to be successful. I think one thing I do well is I'm able to find quality individuals who want to come in here and do well."
Just as his players have bought into MU, Lykins hopes Tigers fans buy into the team. "Come see how fast it is," he says. "Come see how physical it is – how guys get knocked down from competing so hard and moving so fast."
"Come out and watch us play. You'll be surprised."
MU Men's Wheelchair Basketball plays its first tournament of the season Oct. 28-29 in Columbia at MizzouRec. You can find the full schedule here. Photos by Lexi Churchill